It's dinnertime in Annenberg Hall, and Celia Arias-Piña is enjoying a time-honored ritual of college life: She tucks into a heaping bowl of brightly colored sugary cereal, leaving the chicken and broccoli on her plate untouched.
Earlier in the day, Kamil Supronik, a devoted gym rat, sampled yoga at the Malkin Athletic Center for the first time.
---
Photo gallery:
Crimson Summer Academy 2005
---
And several evenings before, Vadilson "V" Pina sketched his vision for a rebuilt World Trade Center in New York after listening to a lecture on design.
As quintessentially collegiate as their lifestyles seem, Arias-Piña, Pina, and Supronik aren't college students, nor are they well-off prep schoolers. They are among the 60 scholars of the Crimson Summer Academy (CSA), Harvard's academically rigorous summer program for promising Cambridge and Boston high school students from low-income families. Launched last summer with the explicit goal of preparing students for top colleges and universities, CSA this year has extended its college preparatory experience to include on-campus living from Sunday night through Friday afternoon.
Nighttime hijinx, daring nutrition, and working out aside, CSA is hardly summer camp. Eliminating the students' daily commute from some of Boston and Cambridge's farther-flung neighborhoods has simply provided more time for studying and learning. Here's a look at a typical day through the eyes of four rising juniors who are Crimson Scholars for the second year.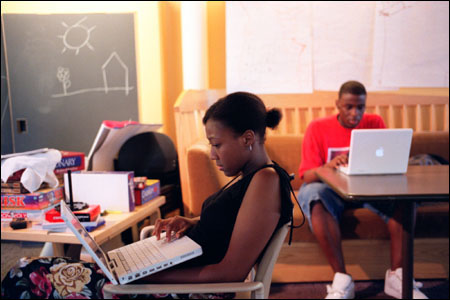 7 a.m. The scholars rise with the foggy reluctance of high school students. "It feels weird waking up so early in the summer," says Arias-Piña, who lives in Roxbury's Egleston Square and attends the Boston public high school Another Course to College. Still, she and her fellow CSA Scholars are thrilled and honored to give up summer relaxation for six weeks of demanding academics, fully funded by Harvard, and a taste of college life. "I like the challenge of lots of work," she says.
8:10 a.m. After breakfast at Annenberg, the 60 scholars – 30 juniors returning from last year, 30 sophomores attending for the first time – gather in their "homeroom," Ticknor Lounge, for the daily community meeting. After announcements, Anton Wintner '08 and Alejandro Jerez '08, two of the 29 Harvard undergraduates who serve as mentors to the program, lead a lively discussion about racial disparities in education. Such presentations amplify the CSA's unifying curricular theme, "The Student as Citizen."
10:30 a.m. In the Science Center's room 403A, Onyebuchi "Buchi" Ogbo, a student at Cambridge Rindge & Latin School, hovers over a gel to see if his DNA has duplicated. "We're trying to see who we're related to," says the Nigerian native. Before launching this week's experiment, the junior scholars discussed the idea that racial distinctions are a cultural, not genetic phenomenon: intra-race DNA can vary more than inter-race DNA.
"It started with a discussion of 'What is bad science?'" explains CSA science teacher Javier Bastos. Along the way, students master lab techniques and explore the complexities of DNA.
"It's awesome – one of my best classes," says Arias-Piña. "We do lots of hands-on experiments."
Supronik, a Dorchester resident who attends Excel Academy at South Boston High School, says the four-times-a-week labs distinguish CSA from his school-year experience, where labs are far more rare. But that's not all that's unique.
"The atmosphere here is different from my school," he says. "Here, everyone wants to learn something."
1 p.m. Like almost all of the scholars, Supronik spends the daily "choice time" at the Malkin Athletic Center. Today, his workout group is trying yoga. Towering over most of his classmates, Supronik downward dogs with surprising agility but says he is unlikely to abandon the weight room for the yoga mat.
Outside on the MAC Quad, Pina, Ogbo, and Arias-Piña play a scrappy game of soccer with several dozen other scholars in the 90-degree heat. Competition is fierce but friendly, as soccer show-offs scramble for headers and hesitant athletes are urged to abandon the sidelines.
"Having roommates and all, you get to know people better," says Ogbo, dressed in a bright red T-shirt and baggy red shorts and assuming the role of the affable class clown. "It's like a home."
2:30 p.m. Back in the Science Center, the scholars hone their communications skills in public speaking and debate class. Teams present their resolutions – taking a stand on such meaty issues as gay marriage, the Cuban embargo, the funding of charter schools, and U.S. military involvement in the Sudan – and CSA teacher Patrice Jean-Baptiste guides them as they pare away extraneous words to tighten their focus.
Arias-Piña, in the front row with her CSA-issued laptop open, fires questions to Jean-Baptiste and the class in general. "What do you mean by 'premeditated'?" "Is the embargo in Cuba or the U.S.?" "I love to ask questions," she says.
5:30 p.m. Edward Kravitz, Berry Professor of Neurobiology at Harvard Medical School, joins the Crimson Scholars for dinner. Over Annenberg's rendition of General Gao chicken, Kravitz gives Supronik and Pina a sneak preview of the lecture he'll deliver to all the scholars after dinner. "You're going to hear that fruit flies fight," he says. "You don't even have to train them."
When Supronik describes the DNA experiment they've been conducting in their science class, Kravitz promises, "I'm going to show you some very nice genetic tricks."
Are any of them interested in careers in science? Kravitz asks his teenaged dinner companions. Heads shake and shoulders shrug – as sophomores and juniors, many of the scholars haven't set career goals. Supronik is an exception. "I'm going into computer science," he says. Through CSA, he was able to take a Web site design course at the Harvard Extension School last year. "I did actually very well," he says.
10 p.m. After Kravitz's presentation – a gripping account of the genetic origins of fruit fly aggression that sparked many questions from the scholars – and 90 minutes working in study groups, the scholars can finally relax in their dorm. While the mentors, who live among them in Weld, keep a close eye on them, students nonetheless enjoy a level of independence distinct from home.
"My mom's not yelling at me, 'Wash the dishes!'" says Arias-Piña.
The freedom is short-lived, however. At 11 p.m., mentors break up gossip sessions and Pictionary games and send the scholars to their own suites, presumably to get a good night's rest.
Easier said than done, says Supronik. "It's fun. You don't want to go to sleep," he says.
Arias-Piña, however, welcomes the opportunity to recharge. "I love when I hit that bed, because the day has ended."