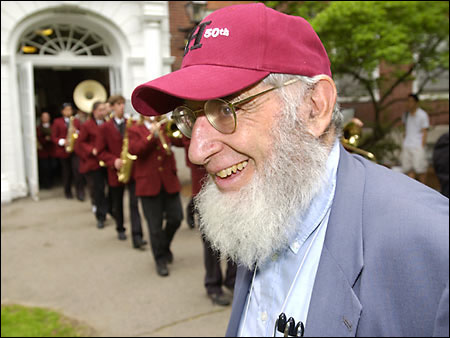 Harvard alumni celebrating their 50th reunion have been out of school more than twice as long as most graduating seniors have been alive. What have they learned in all that time? What do they remember of their student days? How does life look from the perspective of 50 years out? We talked to some members of the Class of 1955 and found them to be a vital, enthusiastic, and generally satisfied group of guys.
'Pogo riots'
Joseph Sannella was supposed to follow his father into medicine, but he ended up with a Ph.D. in chemistry instead. Until eight years ago, when he retired, he was director of research for the Ball Corp.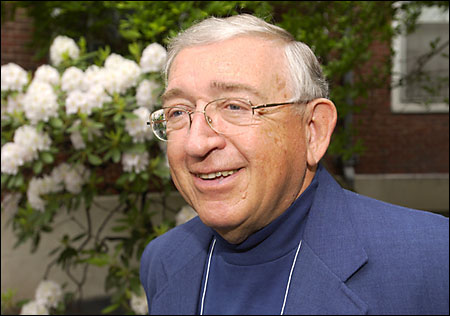 Sannella lived with his family in Revere during his last two years at Harvard, which put a crimp in his social life, but he still has vivid memories of one of the great town/gown encounters of the 1950s – the "Pogo riots."
The year was 1952 and Pogo, the philosophical opossum in the comic strip by Walt Kelly, had declared his candidacy for president. Kelly came to Harvard to speak and 1,600 students turned out to greet him. When a student tried to disengage the electrical contacts of a passing trolley the police went into riot-control mode. In all, 28 students were arrested.
"It was a real riot," said Sannella, who now lives with his wife, Nancy, in Indiana. "The police were hitting people over the head with their clubs."
McCarthy hearings
George Schatzki remembers another political event – the Army-McCarthy hearings of the spring of 1954 in which Sen. Joseph McCarthy slowly but surely dug his political grave by trying to expose Communist agents within the United States Army while America watched on TV.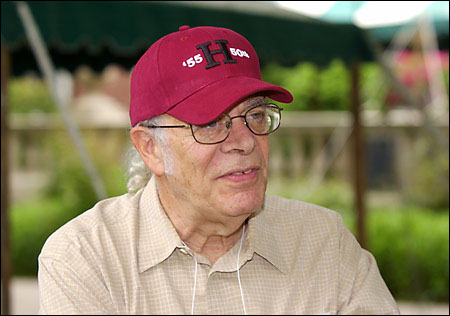 "That was probably the first event that made me politically aware. Instead of going to class, I watched the hearings on television, which was much more interesting."
Schatzki, a Boston native who now calls Arizona home, went on to earn a law degree from Harvard Law School and to practice and teach labor law and employment law. He has since served as dean of the law schools of the University of Washington and the University of Connecticut and as acting dean of Arizona State University.
Alternative ways of looking
Roger Masters said that one of the most important things Harvard did for him was allow him to forge relationships with faculty members that have had a lasting impact on his career.
"For example, I had a freshman tutorial with a young man with a German accent. You wouldn't have heard of him. His name was Kissinger."
Masters, an emeritus professor of government at Dartmouth College, also credits Harvard with opening his mind to alternative ways of looking at things, helping him make a relatively recent shift in his academic career to the study of environmental pollutants as causes of antisocial behavior. He now heads the Dartmouth Foundation for Neuroscience and Society and has been investigating the association of hydrofluosilic acid, commonly used in the fluoridation of drinking water, with heightened lead levels in children.
"Harvard teaches you how to learn, even when you're an old turkey of 71!"
Real world exposure
Richard Zwetsch is treasurer of the Class of 1955, and being a class officer has given him a unique perspective on the Harvard experience.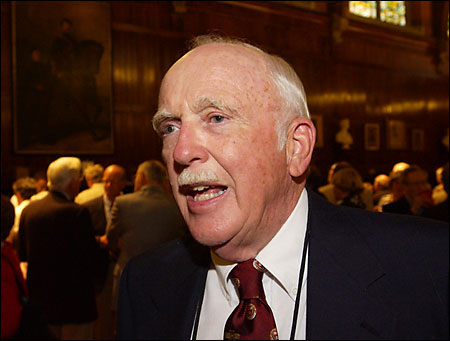 "I know a lot more members of the class now than I did when I was a student, so I would say that my ongoing involvement over the past 50 years has been as important to me as the first four."
Not that the first four weren't important too, Zwetsch is quick to add.
"Harvard exposed me to the real world, to different levels and types of people. It also taught me how to think coherently and how to write so people can understand."
Stimulation of great teachers
Thomas Chen entered Harvard at the tender age of 15 after skipping several grades at Avon Old Farms School in Connecticut.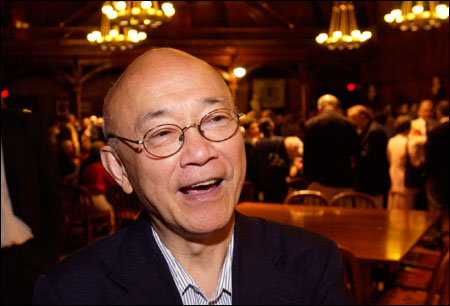 "I led a very sheltered life at Harvard," he said. "I was probably socially maladapted."
Born in Shanghai, Chen was initially drawn to the Department of East Asian Languages. He remembers how stimulating it was to spend time with great teachers like Edwin Reischauer and Francis Cleaves. He planned to continue his studies in graduate school, but then changed course and went into medicine. After a career as a pathologist, he is now retired and living in New Jersey.
Record-setter
Class secretary Warren "Renny" Little said that his more than half-century involvement with Harvard has played an important role in his life.
"When I first came here, I was a fairly insecure guy, but I settled in, I ran track and was successful. I even set a record in the mile relay."
A Brookline native, Little spent his career as an educator, working at the Boston Science Museum, the New England Aquarium, and the Higgins Armory Museum in Worcester ("I tell people armor is not my strongest suit").
His position as class secretary has its ups and downs, but on the whole, he finds it pleasurable.
"Keeping in touch with class members is difficult at this stage because a lot of people are passing on, which can be a bit of a downer. On the other hand, at the 25th reunion everybody's very competitive, but by the 50th everyone's pretty mellow."