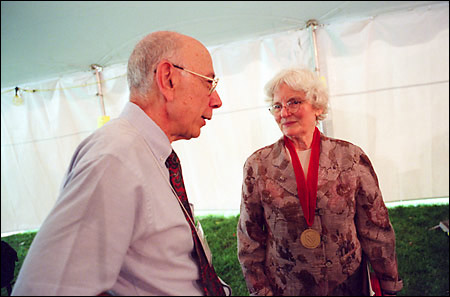 Denise Scott Brown said that when she was a young student, people would tell her she looked like a Radcliffe girl.
She wasn't one. Born in Zambia to Jewish parents, raised in South Africa, and educated in England, she was already well past college age by the time she first visited the United States. But the remark stuck with her, and she would often wonder what it meant. She finally decided it had something to do with being a nonconformist, standing up for your own ideas, being "feisty."
"When I got to London, I noticed there were other women who didn't wear lipstick and who walked around in a man's trench coat, and when I got to America I saw there were even more. And in Cambridge there were still more, and when I wore my Burberry, some of them would greet me on the street."
Scott Brown was this year's recipient of the Radcliffe Institute Medal. An architect and city planner and a principal of the Philadelphia architecture firm Venturi, Scott Brown and Associates, she accepted the award at a luncheon at Radcliffe on June 10 and gave an informal talk about the ideas and people who have influenced her development.
Besides being a medal recipient, Scott Brown is destined to have a far more profound and lasting impact on Radcliffe. Her firm has been involved in formulating a long-range plan for reconfiguring Radcliffe's buildings and grounds. Part of the plan has already been realized in the redesign of the interior of Schlesinger Library. Other changes will follow as Radcliffe reclaims leased spaces and provides more opportunities for fellows, students, and others to communicate and interact.
Scott Brown, along with her professional partner Robert Venturi, is one of the most influential figures in planning and design today, known for bringing multiculturalism, social activism, history, symbolism, and popular culture into architectural discourse. She has taught at the University of Pennsylvania, the University of California, Berkeley, the University of California, Los Angeles, Yale, and Harvard and has contributed to many important projects including the Sainsbury Wing of the National Gallery in London, the Conseil Général complex in Toulouse, France, and planning work in Philadelphia, Miami Beach, and the Bouregreg Valley in Morocco.
But despite Scott Brown's reputation as a cutting-edge force in design, those who came to hear her expound learnedly on the abstract ideas behind her work must have gone away disappointed. Most of her talk was taken up with heartfelt and often emotional acknowledgments of the people – many with Harvard or Radcliffe connections, and some sitting in the audience – who have helped, influenced, and supported her during her career.
She described the experience of coming to Philadelphia with her husband Robert Scott Brown to study architecture and planning at the University of Pennsylvania. The couple were looking for a place to live when they met William Opel '50, a young Episcopal minister, and his wife Nina '50.
"They invited us in and we ended up staying for supper and talking way into the night. Then a short while after that, I was involved in an accident, and suddenly I didn't have a husband any more. Bill helped me and held my hand all the way through, and at one point I said to him, 'Bill, this isn't even your work,' and he said, 'Denise, you are my work.' I've never forgotten that."
Scott Brown described another friend at Penn, Linda Greenburg Davidoff '62, as "a radical revolutionary with a high style that was a wonderful mix of elitism and populism."
The description led her to give a word of advice to those in the audience who might be overconcerned with political correctness.
"You people are too afraid of elitism. Elitists can have good values too, you know."
Davidoff, who is now deceased, once had an argument with Donald Trump, a confrontation which Scott Brown said she wished she had witnessed, in which Davidoff persuaded Trump to move a building project back from the shore of the Hudson River. The stretch of grass that now occupies the space has come to be known as "Linda's Lawn."
Scott Brown also put in a word for her partner Robert Venturi, whom she recognized as a fellow outsider when she arrived at Penn.
"We found we had enormous amounts to share when we first met. We formed a friendship at Penn because we were both considered untouchables. Bob and I are both feisty. He's a Radcliffe girl too, in that sense."
The two later collaborated on the influential book, "Learning From Las Vegas" (1972), which led to another Emersonian aside on a "foolish consistency" being "the hobgoblin of little minds."
"There's no reason at all why one can't have social concerns and still be interested in analyzing popular culture," she said.
Scott Brown made a last point about the importance of diversity, a category in which she included "inner diversity." By this she meant the condition of one who is a member of a minority and who also functions as part of the majority. Being a member of two or more different worlds can create conflict, she said, but it can also be a source of creativity. She also believes that inner diversity can protect a person from becoming "a fascist."
"People who are conflicted within themselves are unlikely to become ideologues," she said.