At Afternoon Exercises of this year's Commencement (June 9), the Class of 2005 was delighted to hear a children's story and a song about a manatee. Actor and arts activist John Lithgow '67 charmed the large Tercentenary Theatre crowd with his disarming address offering lighthearted advice and self-deprecating wisdom along the way.
"Wisdom from an actor?" Lithgow quipped in his flawlessly delivered speech. "If I were a wise man I never would have gone into the acting profession."
Lithgow blended his skills as an actor, a writer of children's books, and a supporter of Harvard to recite "Mahalia Mouse Goes to College," a yet-unpublished rhyming children's story dedicated to the Class of 2005. Charting the adventures of a precocious young mouse who finds success and inspiration after stumbling into a college science class, Mahalia's tale was created in part to excite children about education, said Lithgow. Mahalia, who excels at her studies and pursues a wide range of collegiate extracurricular activities, from fencing to square dancing, "succeeded by simply refusing to fail," he recited.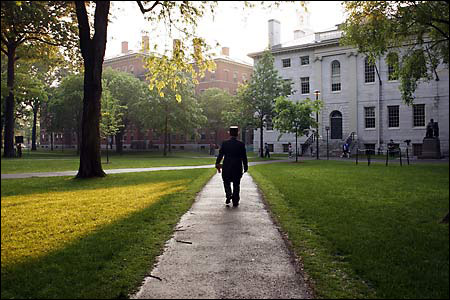 Lithgow announced that he would donate his advance for the book, to be published by Simon and Schuster in 2007, to the class gift for the Class of 2005.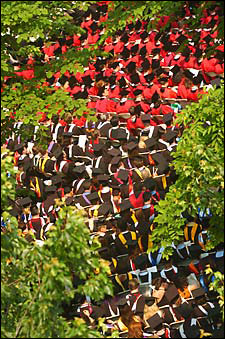 A former Harvard Overseer who spearheaded the creation of Harvard's springtime Arts First festival in 1992, Lithgow was succinct in his counsel to graduates: "Be creative. Be useful. Be practical. Be generous."
He received his "second" Harvard education, he said, from his public conversations with the Harvard Arts Medal recipients during Arts First. "I began to see that many of the qualities that made them great artists were the same qualities that made them good people," he said, citing the "useful, practical, and generous" side projects of many recipients. Folk singer Pete Seeger '40 led efforts to clean up the Hudson River, blues guitarist Bonnie Raitt '72 donated funds for guitar lessons for inner-city kids, filmmaker Mira Nair '79 started a film school in Uganda.
"Think about the people I just described to you, how they went beyond their original aspirations, sometimes in wildly unlikely ways. Think about how they made a difference in the world and how much joy and pride they took in what they accomplished," Lithgow told the graduates. "You certainly don't have to be an artist to follow their example. It is sometimes a very simple thing to be creative, to be useful, to be practical, and to be generous."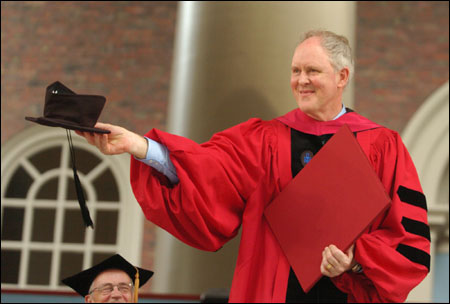 The decorated television, stage, and screen actor described how he parlayed his Emmy Award-winning role as an alien on the popular sitcom "3rd Rock From the Sun" into useful generosity. "A hit sitcom is like a magic wand: When you suggest things to people they tend to say yes," he said.
Drawing on his knack for and abiding interest in entertaining children, Lithgow launched a side career in creating music and stories for young people. His "secret agenda," he said, was to spark kids' interest in the arts.
Lithgow, the first actor ever to deliver a Harvard Commencement speech, fulfilled his promise to "finish big" with the recitation of "Mahalia Mouse Goes to College." Pressed for an encore – hardly customary for a Commencement speaker – Lithgow performed his song "I'm a Manatee," warning that "for those of you with little children, this song has already driven you completely out of your minds."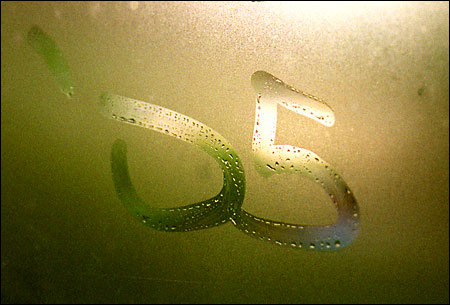 If the song pushed some parents to insanity, it charmed the majority of listeners with its cunning rhymes and playful story of a humble manatee, free from vanity, whose face is indistinguishable from its "fanny-tee" and who sprinkles seaweed on his "raisin bran-atee." Lithgow recovered from forgetting a few of the words ("I end with 'inanity' on that verse") to finish with a Broadway-style, spread-armed flourish.
As the crowd of graduates, families, and alumni dispersed from Tercentenary Theatre, the mood was upbeat.
"It was a good touch to the solemnity of the alumni association meeting," said Julie Greenberg '05.