Thomas W. Lentz, Elizabeth and John Moors Cabot Director of Harvard University Art Museums (HUAM), recently announced the appointment of Bradford W. Voigt as the first director of institutional advancement for the art museums. Voigt will join HUAM in this new position on July 18.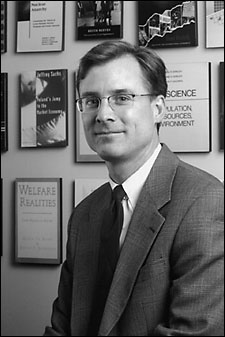 "Brad is a seasoned professional with over 20 years of experience in arts, cultural, and educational organizations," said Lentz. "His expertise and vision will be critical to our continued financial stability far into the future."
Voigt comes to HUAM after a successful fundraising campaign and grand opening celebration at the new Peabody Essex Museum (PEM) in Salem, Mass. As the director of development at PEM, he successfully completed a $194 million comprehensive development program, managed a staff of 14, and increased philanthropic support by 167 percent in three years. Prior to joining PEM, he served as assistant dean for development at the Kennedy School of Government, where he completed a $208 million campaign as part of the $2.6 billion University "Campaign for a New Century."
"I am delighted to be returning to Harvard, this time as part of Tom Lentz's team," said Voigt. "I am impressed by the vision, intelligence, and thoughtful planning Tom has brought to the art museums, and I am eager to begin helping him achieve his goals for the institution. I look forward to working with my new colleagues and the community of supporters and volunteer leaders to build upon the art museums' remarkable legacy."
A 1982 graduate of Brown, Voigt has directed several fundraising campaigns for major organizations including the Kennedy School, Beth Israel Hospital, Massachusetts Audubon Society, and Boston Ballet.
This appointment comes at a critical time in the history of HUAM as the groundwork is laid for the renovation of the 1927 Fogg Art Museum facility, expansion of art storage for one of the 10 largest collections in the United States, and development of space for the exhibition of contemporary art and art of the last half of the 20th century. HUAM has nearly 300 employees with an annual operating budget in excess of $20 million. Future operational and capital needs require successful fundraising initiatives, even though the art museums are supported in part by a sizable endowment. To that end, as director of institutional advancement, Voigt will oversee all aspects of membership, individual giving, capital fundraising, and institutional support.