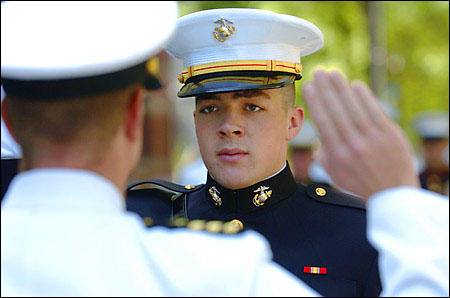 Seven Harvard College seniors began their service to the nation yesterday (June 8) at the Reserve Officer Training Corps (ROTC) commissioning ceremony in Tercentenary Theatre. Smaller but no less traditional than today's Commencement Exercises, the commissioning ceremony featured remarks by President Lawrence H. Summers and reflections from Harvard alumni on their lives as scholars and soldiers.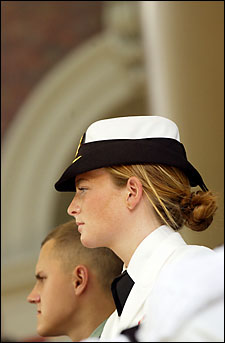 Seniors Daniel Kanivas, William Connors, and Elliott Neal were commissioned into the U.S. Army as second lieutenants; the U.S. Navy commissioned Ensigns Stephanie Hendricks and David Patterson; Sean Wilson was commissioned into the U.S. Marine Corps as second lieutenant; and the U.S. Air Force commissioned 2nd Lt. Nicholas Siler.
Speakers at the ceremony stressed the important partnership between America's higher education community and its military.
"The need for having a viable, national-level citizen-soldier commissioning program like ROTC is abundantly clear," said Lt. Col. Brian L. Baker, professor of military science at Massachusetts Institute of Technology (MIT) and head of the Paul Revere Battalion, which comprises ROTC programs at Tufts University and Wellesley College as well as Harvard and MIT. Baker called the cadets and ensigns of ROTC "critical decision-makers who reflect the broad spectrum of America's colleges and universities." ROTC plays an important role, he said, in linking academia to the nation's armed forces.
Summers noted that the events of Sept. 11, occurring just before these students entered classrooms their freshman year, dramatically changed their futures.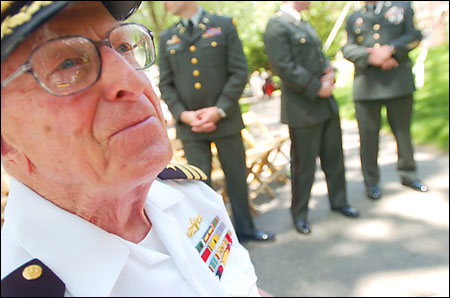 "The university community was able to do its part. We reaffirmed our faith in the future, our commitment to the spirit of freedom and free inquiry," Summers said. "Our country is strong because it is free, and it is free because it is strong. That would not be true without those who are prepared to commit themselves in the armed forces to our country."
Following the president's speech, Baker presented Summers with a civilian award for patriotic service for "your commitment to national defense, for your bold measures and your support these years."
U.S. Air Force retired Col. John Small '55, the 50th reunion speaker, reflected on the long trajectory of his military career, from boyhood patriotism during World War II through his own commissioning ceremony at Harvard – with 200 commissionees, a far more crowded event than today's – to the U.S. military's failed effort to rescue American hostages in Iran in 1980. "It was the worst day of my military career," said Small, adding that he was rewarded by many successful, fulfilling moments throughout his 28 years in the Air Force.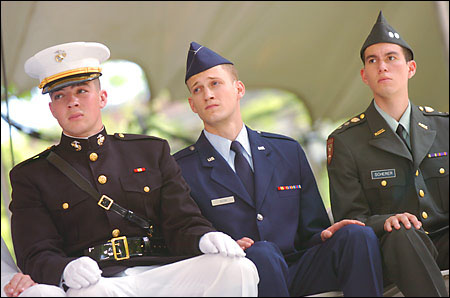 Capt. Vincent Tuohey '01, who has served in Iraq, told the commissionees that they are unique among their classmates in the immediate impact they will have upon the world. He urged the graduates to draw upon both their Harvard education and their ROTC training.
"Now more than ever, the armed forces need leaders of your background and education," he said. "Learn to exploit the skills you've honed at this great institution and apply them to military life. Your ability to think critically, to communicate your ideas clearly, to see the greater significance of everyday events will set you apart from your peers."
Each student's commissioning brought salutes, traditions (new officers give a silver dollar to the individual who renders their first salute), and more than a few tears, as the cadets' and ensigns' parents pinned their new ranks on their sons' and daughter's uniforms.
With one foot in the festivities of Senior Week with their Harvard classmates and one foot marching toward military service, the new officers embodied the connection between academics and military leadership.
"The Air Force is the reason I came [to Harvard]," said Second Lieutenant Nicholas Terrell Siler '05, who applied only to Harvard and the Air Force Academy. "Today is actually more important to me than the ceremony tomorrow."