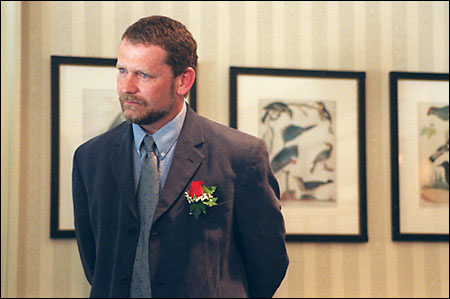 The Harvard Graduate School of Education (HGSE) recently presented five outstanding educators in the Boston and Cambridge public school systems with James Bryant Conant Fellowships. The awards, which were given by HGSE Dean Ellen Condliffe Lagemann, Boston Public Schools Superintendent Tom Payzant, and Cambridge Public Schools Superintendent Thomas Fowler-Finn, provide a one-year stipend for study at the School. The presentation of the fellowships was held June 1 at the Harvard Faculty Club in Cambridge.
Conant Fellowships support the professional growth of outstanding area public school teachers and administrators who have shown commitment to public education. As a stipulation of the award, fellows are required to continue in their school systems for one year after receiving their advanced degree.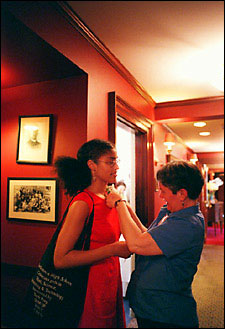 Named after the former Harvard University president who was a dedicated supporter of public education, the fellowships were established in 1986.
This year's winners are as follows:
Stephanie Clark has worked for the Boston Public Schools for four years, three of which have been spent teaching first grade at the Perry Elementary School in South Boston. Prior to working in Boston, she was a member of Teach For America (TFA), where she worked in rural Louisiana as a special education preschool and kindergarten teacher at a regional Head Start. Clark will pursue a master's degree in education from HGSE in the Human Development and Psychology Program.
Paul McGuinness has been teaching biology, marine biology, and oceanography at the Cambridge Rindge & Latin School (CRLS) for nine years. In addition to his professional teaching, he is a member of the board of directors of the Massachusetts Marine Educators as well as a mentor and coach for the CRLS Ocean Science Bowl and Underwater Remotely Operated Vehicle Teams. He was awarded National Board of Professional Teachers Certification in Biology. During his year at HGSE he will seek a master's degree in education from the Technology in Education Program.
Laura Mosman is an advanced placement and honors English teacher at CRLS. In her four years at the school, Mosman has served as a team leader for curriculum planning and has mentored several interns from HGSE's Teaching and Curriculum Program. In addition to being a teacher and a mentor, Mosman was formerly assistant principal of the Cambridge-Harvard Summer Academy and curriculum designer for the language arts courses. She will pursue a master's degree in education at HGSE in the School Leadership Program.
Adam Seldow is a math teacher at Charlestown High School. He is also the founder and president of Gradeweb Inc., a user-friendly grade book and teacher content management Web site. Seldow has served as an education consultant to the Concord Consortium, an educational think tank that develops tools for new teachers in Concord, Mass. As a doctoral student at HGSE, Seldow plans to research education technology in the area of Education Practice and Leadership.
Mary Thomas is a fifth-year teacher at Charlestown High School where she teaches ninth- and 10th-grade English in a looping, Small Learning Community model. She has collaborated to write and manage a grant to create college partnerships and provide early college awareness activities. Beyond her classroom, she works with the Foundation for Excellent Schools and the Consortium for Excellence in Educational Partnerships. In addition, she coordinates an after-school French program and is assistant coach to the school's first debate team. At HGSE, she will be seeking a master's degree in education in the School Leadership Program.