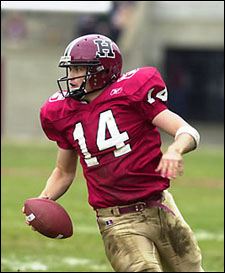 So much happens at Harvard University during the year, it's quite a task to winnow all that's worth noting into a two-page summary.It's almost as hard as predicting the future. Who knows what research from this year is laying the foundation for a future breakthrough? In a few years, will someone earn a Nobel Prize for a discovery made in 2004-05? Will a 2005 graduate join the ranks of world leaders? Will outstanding athletes in this year's list reappear in the future because they've competed in the Olympics? For now, let it suffice to take a look back at one academic year.
Harvard faculty continue to achieve great things, from special recognition by foreign governments to election victories to memberships in distinguished societies to a MacArthur genius grant. Research in virtually every area of endeavor made significant strides.Students continue to excel in academics, in sports, and in public service. The University continues to build and grow – from new construction projects and renovations to finding ways to encourage even more students to apply for admission. Outreach to our neighbors continues through a variety of programs – and through incorporating community feedback into our growing process.A wide array of accomplished guests visited campus this year, like every year, including Supreme Court Justices Antonin Scalia LL.B. '60 and Stephen Breyer LL.B. '64; actresses Sharon Stone and Jada Pinkett Smith; Wikipedia founder Jimmy Wales; assorted political playmakers, persuaders, and pundits, both domestic and foreign; not to mention dancers and musicians, sculptors and conceptual artists, poets and puppeteers. – Jessica Baumgart and Max DanielsJuly 2004The Fogg Art Museum acquires the poetic landscape study by the great Venetian Renaissance master Titian "Trees Near a Pool of Water." Bequeathed by John and Alice Steiner, it is the most important Italian drawing to enter the collection since the 1950s. David Ellwood becomes dean of the Kennedy School of Government (KSG).
Ted Donato '91 becomes head coach of Harvard's men's hockey team.February: Drew Gilpin Faust (from left), Evelynn Hammonds, and Barbara Grosz lead efforts on Women Faculty and on Women in Science and Engineering task forces. (Staff photo Kris Snibbe)Harvard President Lawrence H. Summers; Cambridge Mayor Michael A. Sullivan; Eric Lander, Broad Institute director and a member of the faculty at the Massachusetts Institute of Technology (MIT); MIT Provost Robert Brown; and Whitehead Institute Director Susan Lindquist break ground for the Broad Institute at 7 Cambridge Center.With $15 million over five years, the National Institutes of Health announces that it will fund a new Harvard Medical School (HMS) Center for AIDS Research, which integrates two HMS-based research centers.Harvard Business School Press (HBSP) and the Chinese publisher The Commercial Press form a partnership so The Commercial Press can publish HBSP's materials in Chinese.
August 2004Using a supercold vacuum trap with magnetic fields, researchers measure the speed of antimatter for the first time. The inaugural group of high school students in The Crimson Summer Academy complete the rigorous program.Harvard athletes compete in the 2004 Summer Olympics in Athens. Brenda Taylor '01 finishes seventh in the women's 400-meter hurdles. In the women's eight, senior Caryn Davies takes silver.Geneticists from Harvard and the University of Toronto find an unexpectedly large number of variations in the human genome, which may explain differences in human nature and help identify people prone to certain diseases.Phillips Professor of Astronomy Emeritus Fred Lawrence Whipple, who specialized in comets, dies at the age of 97.
September 2004Megan Sniffin-Marinoff becomes Harvard University archivist, replacing Harley P. Holden who held the position for more than 30 years. The National Institute of Allergy and Infectious Disease's Division of Microbiology and Infectious Diseases gives the Harvard Institute of Proteomics a $12.4 million, five-year contract for a Biodefense Proteomics Research Program. To establish a fund for excellence at the KSG, political and business leader David M. Rubenstein donates $10 million.The Andrew W. Mellon Foundation gives $2.1 million to the Harvard University Library to endow a senior photograph conservator position and help launch a new preservation program for the University's 7.5 million photographs.President Summers names Joseph S. Nye Jr., former KSG dean, and Peter G. Rowe, former dean of the Graduate School of Design (GSD), Harvard University Distinguished Service Professors. The professorships honor deans who return to the faculty.For the second year in a row, Working Mother magazine includes Harvard University on its list "100 Best Companies for Working Mothers." Harvard is, again, the only university on the list and one of two Massachusetts institutions named.Pioneer landscape ecologist Richard Forman is invited by the city of Barcelona to study – and recommend alterations to – natural systems that were not working while preserving those that were. Within the next 12 to 18 months, the Faculty of Arts and Sciences (FAS) plans to install wireless access in all of the Harvard College and Graduate School of Arts and Sciences (GSAS) dormitories, becoming one of the few universities to do so.Using nanotechnology, the laboratory of Charles Lieber, Mark Hyman Jr. Professor of Chemistry, develops a sensor capable of detecting a single virus.Assistant Professor of Systems Biology and Assistant Professor of Medicine Vamsi Mootha wins a "genius" grant from the MacArthur Foundation.April: The Harvard Stem Cell Institute awards its first group of seed grants to 12 young scientists. (Staff photo Justin Ide)Computer scientists and seismologists outfit the mountain Tungarahua in Ecuador with wireless sensors to monitor its volcanic activity, revolutionizing monitoring of this active volcano. October 2004After the completion of years of renovations, Widener Memorial Library is rededicated by Nancy M. Cline, the Roy E. Larsen Librarian of Harvard College, President Summers, and FAS Dean William C. Kirby. The American Institute of Architects (AIA) and the American Library Association (ALA) later give Widener Library the 2005 AIA/ALA Library Building Award for its five-year renovation project.Thomas Dudley Cabot Professor of the Natural Sciences Matthew Meselson receives the 2004 Lasker Award for Special Achievement in Medical Science.Former HMS neurobiologist Linda Buck wins the Nobel Prize in physiology for "odorant receptors and the organization of the olfactory system" – research she worked on while at Harvard.The Graduate School of Education (HGSE) institutes its first Core course, "Thinking Like an Educator."While celebrating Harvard and Boston's after-school program partnership, President Summers and Boston Mayor Thomas M. Menino recognize two school principals who have made strides in their schools' after-school programs.Students and educators should be involved in efforts to reduce dangerous drinking, as well as being involved in alcohol education efforts, recommends the Committee to Address Alcohol and Health at Harvard. President Summers announces a new partnership with Consejo Nacional de Ciencia y Tecnología (CONACYT) to offer CONACYT-Harvard Graduate Fellowships to outstanding Mexican Ph.D. students.Geochemist Charles Langmuir serves as chief scientist on an expedition searching for new ocean vents near Tonga in the Pacific Ocean.At the request of President Summers, a committee develops the University Sustainability Principles to help Harvard be a better steward of the environment. The GSAS launches a new partnership with the University of Ghana.As part of the National Institutes of Health (NIH) Roadmap for Medical Research, the NIH funds two new National Centers for Biomedical Computing for HMS faculty members Isaac Kohane and Ron Kikinis.The Harvard-Smithsonian Center for Astrophysics hosts a reception in recognition of its new 25-inch telescope.Planning for Harvard's growth in Allston continues through the Master Planning Advisory Committee, the firm Cooper, Robertson & Partners, and the Allston Science and Technology Task Force.In an effort to help foreign students with the U.S. visa system, Harvard University agrees to pay the new $100 fee for each new student visa. Hansjoerg Wyss M.B.A. '65 of the international medical device company Synthes Inc. donates $25 million to the doctoral program of Harvard Business School (HBS).Marilyn Hausammann becomes Harvard University's first vice president for human resources. Harvard University Health Services donates 2,000 doses of a flu vaccine to the Boston Public Health Commission to help vaccinate the most at-risk people in light of a national shortage of the vaccine.November 2004The Harvard College Library agrees to transfer many books from the Hilles Library collection to Sun Yat-Sen University in June 2005.The National Institutes of Health Roadmap for Medical Research announces that it is giving $2.2 million over five years to Harvard School of Public Health's (HSPH) Interdisciplinary Training in Genetics and Complex Diseases.Garnering the first women field hockey Ivy League title in 13 years, the Crimson finish the season 11-6 (6-1 Ivy) and split the title with Penn.HMS launches two new Ph.D. programs: Systems Biology and Chemical Biology. Because of his work developing new lines of human embryonic stem cells, Douglas Melton, Thomas Dudley Cabot Professor of Natural Sciences, is selected by Scientific American as one of the 50 national leaders in science and technology.The National Endowment for the Humanities awards Harvey Mansfield, William R. Kenan Jr. Professor of Government, the National Endowment for the Humanities Award.HBS renames Humphrey House Greenhill House in honor of Gayle and Robert F. Greenhill M.B.A. '62 and their family's gift of a $15 million endowment to support HBS global research efforts.During the 2004-05 academic year, the Harvard College Dean's office creates a new position focused on student social programming. Anthropologist Daniel Lieberman reports on his studies about how and why humans evolved into good runners.Beating Yale gives the Crimson football team another undefeated season, ending 10-0 overall and 7-0 in the Ivy League.A graduate student, two recent graduates, and five Harvard undergraduates receive Rhodes and International Rhodes Scholarships.The seventh Harvard woman to earn All-America honors in cross country and the first since 1988, freshman Linsdey Scherf competes in the NCAA Championships at Indiana State.December 2004The report "Innovation and Opportunity: Harvard University's Impact on the Boston Area Economy" shows how Harvard is a stable, economic force during difficult economic times.The David Rockefeller Center for Latin American Studies (DRCLAS) celebrates its 10th anniversary.Celia and Albert J. Weatherhead III '50 donate $30 million to create The Weatherhead Endowment for Collaborative Science and Technology, money that will be used to fund science and technology projects. Succeeding University of Chicago president emerita Hanna Holborn Gray, Nannerl Overholser Keohane, Duke University and Wellesley College past president, will join the Harvard Corporation on July 1, 2005.The Mexican government decorates David Carrasco, Neil L. Rudenstine Professor for the Study of Latin America at Harvard Divinity School and director of the Moses Mesoamerican Archive and Research Project, with its highest honor for a foreign national, the Orden Mexicana del Aguila Azteca (Order of the Aztec Eagle). HMS assistant professor and Brigham and Women's Hospital surgeon Atul Gawande finds that far more wounded are surviving injuries in the Iraq and Afghanistan conflicts than in previous conflicts.President Summers and Mayor Menino announce $1.2 million in improvements for North Allston, signaling a new standard for city, university, and community partnerships. The Harvard University Center for the Environment hosts a talk on climate change featuring former U.S. Vice President Al Gore and President Summers.Harvard senior Thomas Wolf receives a Marshall Scholarship.Google announces a pilot collaboration with several large libraries, including Harvard University's libraries, to digitize a portion of the collection and make it available on the Web.Geneticists develop a fast, easy, and inexpensive way to synthesize DNA – something that could potentially revolutionize the field. Brigham and Women's Hospital celebrates the 50th anniversary of the first successful organ transplant with two symposia and a display featuring the Nobel Prize in medicine that surgery professor emeritus Joseph Murray received for his work.Working with an international team at the Center for European Nuclear Research, Harvard physicists help develop a new way to slow antimatter atoms to make it easier to study them. January 2005By offering to match individual donations up to $100, Harvard University encourages its employees to support relief efforts related to the December 26 tsunami. The University gives $245,877 on top of individual contributions of $307,255. A neurologist discovers that retinoblastoma protein prevents specialized cells essential to the sense of hearing from replicating themselves, potentially leading to new treatments for certain kinds of deafness.Harvard scientists unravel the secrets behind the Venus flytrap's quick leaf-closing movement.February 2005Ruth and Frank Stanton Professor of Urban Policy and Planning Alan A. Altshuler becomes dean of the GSD.Schlesinger Library reopens to the public after $7 million of renovations to improve humidity and temperature controls and reorganize library space.Plans to renovate the Hasty Pudding Theatricals building include a new theater, rehearsal rooms, meeting space, and classrooms. Evolutionary biologist Ernst Mayr dies at the age of 100. The Hasty Pudding Theatricals select Catherine Zeta-Jones as its Woman of the Year and Tim Robbins as Man of the Year.Entomologist Edward O. Wilson theorizes Solenopsis geminata and Pheidole megacephala are the unidentified species of ants responsible for two historic plagues in the Caribbean that devastated crops. Setting another record for Harvard College applications, 22,717 students apply, a 15 percent increase from last year. Admissions and Financial Aid Dean William R. Fitzsimmons speculates the new financial aid initiatives encouraged students who would otherwise not have considered applying to Harvard for financial reasons.President Summers establishes task forces on Women Faculty and Women in Science and Engineering for the purpose of enhancing the diversity of the Harvard faculty across all fields, and to improve the climate and prospects for faculty once on campus.Men and women's fencing teams earn Ivy titles. The women finish undefeated to claim their first title. The men share theirs with Columbia.Forsyth Institute scientists replicate a key aspect of the formation of dental enamel in mice.Harvard women's hockey avenges Boston College's defeat of the men's hockey team in the Beanpot with its seventh straight Beanpot victory against Boston College's women. Physics graduate student Peter J. Lu, who studies the physics of polishing, thinks the ancient Chinese used diamonds to skillfully polish and grind ceremonial axes as long as 6,000 years ago – earlier than previously thought. The University announces that between May and September, Hemenway Gym will get a refurbished cupola, new gutters and flashings, repaired and reglazed windows, and a new door and transom.Announced renovations to Sever Hall include cleaned masonry, new double-glazed windows, previous repairs brought in line with the building's original color scheme, and a refurbished fourth floor to house Visual and Environmental Studies. Astronomers wonder if the recently discovered cool brown dwarf OTS44 might warm planets in a manner conducive to life.The Busch-Reisinger Museum hosts a special exhibition of fin-de-siècle Viennese art in conjunction with Germanic languages and literature professor Peter Burgard's course "Repression and Expression: Literature and Art in Fin-de-Siècle Germany and Austria."Women's hockey withstand a late-surging Dartmouth club to capture the program's sixth Ivy League title with a 4-3 win. Becoming one of five women's hockey teams to celebrate 400 victories, the following day, Harvard puts away Vermont, 7-1, to clinch the Eastern Collegiate Athletic Conference regular season title outright. The Crimson close out the 2004-05 campaign at 20-6-3 (17-1-2 ECAC). Dunking Princeton's five-year run as Ivy League champions, the Crimson women's swimming and diving team capture the title after finishing a perfect season (10-0, 7-0 Ivy).March 2005Ophthalmology professor Dong Feng Chen and her team create mice that can regrow damaged optic nerves.Loeb Music Library's Harvard Archive of World Music and the Indiana University Archives of Traditional Music receive a National Endowment for the Humanities grant for a project dealing with digitized endangered sound recordings.Two Harvard students are named to the USA Today's All-Academic first and third teams. After winning an Eastern Intercollegiate Wrestling Association (EIWA) individual title, wrestling sophomore Robbie Preston becomes a member of the first-team All-Ivy League. Former Rookie of the Year Reka Cserny '05 closes out her collegiate basketball career by earning Player of the Year accolades from the Ivy League's eight basketball coaches. JoAnn Manson, Elizabeth F. Brigham Professor of Women's Health at HMS, and colleagues present a simple test analyzing white blood-cell count that can predict the risk of strokes, heart attacks, and fatal heart disease in older women.Harvard joins MassCURE, a new coalition of universities, hospitals, patient organizations, business groups, and scientific societies whose aim is to support the legal standing of stem cell research.Sheldon H. "Shep" White, John Lindsley Professor of Psychology Emeritus, dies suddenly of heart failure. A nationally prominent developmental psychologist, he was instrumental in major children's initiatives such as Head Start and "Sesame Street."Researchers isolate nerves in mice that carry movement signals from the cortex of the brain to the spinal cord, which they hope will lead to treatment for spinal cord injuries and nervous system diseases such as amyotrophic lateral sclerosis (ALS).Ellen Condliffe Lagemann, dean of the GSE, announces plans to step down at the close of the academic year. She will return to teaching as the Charles Warren Professor of the History of American Education.The United States Fencing Coaches Association (USFCA) names Harvard head coach Peter Brand as the first recipient of the Schreff Sword as the USFCA outstanding coach of the year. David Charbonneau, an assistant professor of astronomy, detects radiation from the planet TrES-1, the first time light from outside our solar system has ever been seen. To launch a laboratory to study aging, philanthropist Paul Glenn commits $5 million to HMS over five years. April 2005The Harvard Corporation announces its decision to divest its holdings in PetroChina, a leader in oil production in Sudan.After freshman foiler Emily Cross defeats her Notre Dame opponent to capture the NCAA women's title, she earns a gold medal at the Junior World Championship in Austria. Daniel Lieberman and David Pilbeam, together with researchers from Switzerland, France, and Chad, announce the discovery that a 7-million-year-old human skull indicates its owner walked upright. The National Symposium for the Advancement of Women in Science is held at Harvard, organized by the undergraduate group Women in Science at Harvard-Radcliffe. Initiating the first U.S.-led Iranian dig in decades, C.C. Lamberg-Karlovsky signs an agreement with the Iranian government for a six-year archaeological project in an area believed to be an important way station on the Silk Road. Harvard Indian College celebrates its 350th anniversary. Since its founding, more than 800 Native Americans have earned Harvard degrees. HMS marks the 50th anniversary of the polio vaccine, the research for which earned two Harvard affiliates and their research colleague a Nobel Prize in medicine in 1954.Construction begins on the Northwest Science Building, which will house 30 faculty research groups across the sciences. Women's tennis grabs its third-straight Ivy League title with a 6-1 win over Brown. With the victory, Harvard, which hasn't lost a league match since 2002, earns an automatic berth to the NCAA tournament. Harvard launches a new M.D-Ph.D. track in the social sciences. The Faculty Task Force on Science and Technology makes recommendations on the University's science future, including Allston, the North Yard, and Longwood. The Harvard Stem Cell Institute awards its first group of seed grants to 12 young scientists researching innovative therapies for diseases such as cancer, diabetes, Parkinson's, and retinal blindness.A faculty task force highlights scientific needs and opportunities at Harvard, issuing a report after more than a year's work that recommends committing resources and space to new initiatives studying fundamental scientific questions and exploring global health issues. Sharmin and Bijan Mossavar-Rahmani give $15 million to endow the KSG's Center for Business and Government, one of the largest gifts in the School's history. Poet and Radcliffe alumna Maxine Kumin receives the Harvard Arts Medal as part of the annual Arts First celebration.The USA Basketball Women's Collegiate Committee names Harvard women's basketball head coach Kathy Delaney-Smith head coach of the 2005 USA Basketball Women's World University Games Team. To establish 10 new endowed professorships and 10 funds to stimulate innovative, collaborative research activity and support faculty recruitment, the Challenge Fund for the Faculty of Arts and Sciences' Division of Engineering and Applied Sciences raises $45 million.May 2005In response to the release of two task force reports, President Summers commits $50 million over the next 10 years to support proposed initiatives. The Task Forces on Women Faculty and on Women in Science and Engineering call for large-scale changes in the way Harvard recruits faculty and supports women and underrepresented minorities pursuing academic careers. The Catherine B. Reynolds Foundation establishes a fellowship program in social entrepreneurship with $10 million to provide tuition and stipends for students at the HGSE, HSPH, and KSG.Dean of the Division of Engineering and Applied Sciences (DEAS) and Dean of Physical Sciences in FAS Venkatesh Narayanamurti announces his plan to relinquish his deanship in favor of teaching, research, and other service to the University.Harvard baseball wins its fifth Ivy title with a two-game sweep of Cornell as nine Crimson players earn league honors.June 2005The planning firm Cooper, Robertson & Partners prepares an interim report for the Harvard community that proposes preliminary ideas and options for a basic campus and urban framework for Allston. The report is shared at the request of President Summers to facilitate conversations among the University, the city of Boston, and the Allston neighborhood in the coming months.Kathleen McCartney is named acting dean of the Harvard Graduate School of Education.Theda Skocpol, Victor S. Thomas Professor of Government and Sociology, is named dean of the Graduate School of Arts and Sciences, effective July 1.Harvard Business School Dean Kim B. Clark announces that he will step down on July 31 in order to accept the role of president of Brigham Young University, Idaho. – Compiled by Jessica Baumgart and Max Daniels