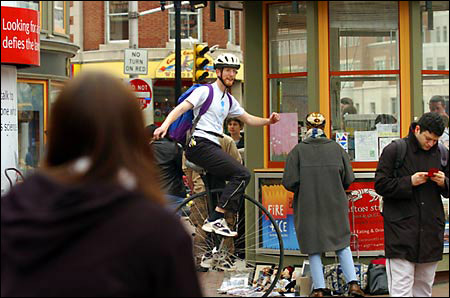 If laughter is the best medicine, then Harvard Divinity School student Zachary Warren is hoping that for Afghan children, performance will help the medicine go down.
Warren is set to embark on a personal marathon to help Afghan children heal after decades of war. Warren plans to take a shot at the world record time for unicycling 100 miles in an effort to raise money for a children's circus that is touring Afghanistan, teaching circus skills, and helping children design and then perform their own circus.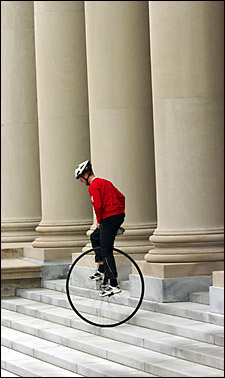 Warren's world record attempt is set for Oct. 11 at 7 a.m., at the Dover International Speedway in Dover, Del., – a 1-mile NASCAR racetrack. Concerns about wind have already nixed a more local location. Warren had initially planned to use the track at the Massachusetts Institute of Technology but changed those plans out of concern about the ever-present winds in the Boston area.
The current world record was set in 1987 by Takayuki Koike of Japan, who averaged 14.85 miles per hour for the distance. His overall time was 6 hours, 44 minutes, and 21.84 seconds.
Warren's effort will raise funds for the Afghan Mobile Mini-Circus for Children, a nonprofit organization established in 2002 that works with orphaned and traumatized children. Warren plans to travel to Afghanistan and work with the organization this summer. His goal is to raise $10,000 for the organization before he leaves in June; he is still welcoming donations. "Ten thousand dollars will help to really establish the circus," Warren said.
After decades of war, the Mobile Mini-Circus for Children aims to unlock the creativity and spirit of fun in Afghan children by bringing tools for storytelling, performance, and public expression to children across Afghanistan.
Circus members act as teachers for the children, holding three days of workshops on circus skills such as puppetry, walking on stilts, and juggling. With help from circus trainers and a group of traveling children-artists, mostly orphans, Afghan children create a show for the community over the first two days and then perform it on the third day.
---
For additional information
---
Warren said the group's emphasis is on teaching, encouraging, and facilitating the children's own creative process to let them drive the performance.
"It's a circus by children, for children," Warren said. "They do the content, we bring the skills."
While Warren is in Afghanistan this summer, he also hopes to conduct research on laughter, videotaping children interacting for an initial project that will hopefully attract research dollars for a more in-depth study on laughter's healing power, he said.
"Is laughter healing? In the research community, it's still undecided. We're still trying to figure it out," Warren said.
Warren began unicycling five years ago, after a friend he met as an undergraduate at Earlham College gave him an old unicycle. He said he took it home and tried it over and over again on his parents' driveway.
"I fell off and bruised myself several times. Then, when I was pink and blue, I finally got it," Warren said.
The unicycle he is going to use may be a familiar sight around Harvard Square. Warren, who lives in Inman Square, said he unicycles the mile or two to class often.
Warren will be riding his 45-inch unicycle for the attempt and said he'll have to maintain 112 rotations per minute, averaging more than 15 mph, to beat the world record. Though the longest distance he's unicycled is 40 miles, Warren said he's not worried about his endurance. He is a bit worried, however, about his comfort on the unicycle seat after so many hours of nonstop pedaling. But Warren feels that a bit of discomfort is a worthy sacrifice to bring laughter to the children in war-torn Afghanistan.
"My passion is for the ministries of healing and laughter for kids," Warren said. "If they're the future of Afghanistan … we can't neglect their emotional and developmental needs."