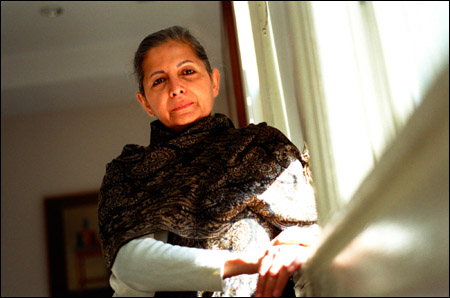 Mehrangiz Kar sits in her spacious office beside a window that looks out on the soggy lawn and still bare trees of the Bunting Quadrangle. Her desk and an adjacent table are strewn with books and papers, most of them covered with the sinuous shapes of Persian lettering.
A lawyer and human rights activist from Iran, Kar has been in the United States since 2001 when she came to this country for medical treatment. While she was being treated for breast cancer, her husband, a cultural critic known for his writings on cinema, was kidnapped by agents of the government and held in an unknown location. Under torture he allegedly confessed to crimes against Islam and implicated friends and family. Kar's friends advised her that in view of what had happened, it would not be safe for her to return home.
What made matters worse was that Kar knew that her husband's sufferings were on account of her own political activities.
"He was arrested because I participated in an international conference in Berlin in 2000 in which I talked about reform of Iran's Islamic constitution, and they accused me of working against national security and against Islam. This is the danger of a religious dictatorship. Anyone who criticizes Islamic law can be accused of being against Islam."
Through the intercession of the European Union, Kar's husband, who is 74, was finally released and given much-needed medical treatment, but only to be arrested again four months later. This time at least Kar knows where he is.
Kar would like to return to Iran, not only to see her husband, but to continue her legal work and her activism. However, she knows that it would still not be safe.
"I have sent three letters to President Hatami asking him, please give me safe passage to Iran to visit my husband. He has never replied, but he sent a verbal message through an intermediary that said, 'I can't do anything for you.'"
Kar has received support from Yale University, American University, the Woodrow Wilson International Center for Scholars, and the National Endowment for Democracy. For 2004-05 she is a Radcliffe fellow, supported by the Scholars at Risk program.
"I feel very comfortable here, and that helps me to continue my work," she said.
She has been working on books and articles in both Persian and English and hopes to find a publisher for an account she is writing of her husband's experiences in prison. She has already found a publisher for a memoir of her 22 years as a lawyer in Iran, and she is planning to launch her own Web site.
There is rising hope among activists in Iran now, Kar said. The bulk of the population is young and well educated and is becoming increasingly dissatisfied with repressive Islamic rule. Encouraged by democracy movements in Ukraine and other countries, activists are hoping for a genuinely democratic presidential election in 2006. There is also hope that with support from the international community, the Iranian government will hold a referendum on the reform of the constitution.
Kar also finds hope in the fact that Iranian schools continue to produce women lawyers and other professionals. Her older daughter received a legal education in Iran and is now living in Canada. Her younger daughter is a student at Oberlin College.
"There have been some limitations, but at least the government has never stopped women from going to school," she said.