Melanie Li Green, advanced-level conservation intern in the Paper Lab of the Straus Center for Conservation, died March 31 after being involved in a motorcycle accident. Li Green, 32, had worked at the Harvard University Art Museums (HUAM) since Sept. 1, 2004, and was to complete her internship at the end of June 2005. She worked under Craigen Bowen, Philip and Lynn Straus Conservator of Works of Art on Paper and deputy director of conservation.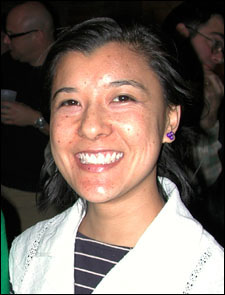 Li Green grew up in South Africa and attended schools in Johannesburg, taking classes in math, science, and art. She obtained her B.A. in fine arts with honors in 1995 at the University of the Witwatersrand, Johannesburg. She then went on to complete her M.A. in paper conservation at the Camberwell College of Arts in London in 1998. While training at Camberwell, she held the position of paper conservator at the Durban Art Gallery in South Africa for two years before coming to the United States to become assistant paper conservator at Andrea Pitsch Conservation in New York. Li Green also worked with Antoinette Owen at the Brooklyn Museum and with Caroline Rieger. She left New York last fall to come to Harvard.
As intern at the Straus Center, Li Green was carrying out research to determine the materials used to create the "Tale of Genji" album belonging to the Asian Department at the Arthur M. Sackler Museum. This 16th century ensemble is of enormous importance and the results of Li Green's work will be included in a forthcoming monograph by Anne Rose Kitagawa, assistant curator of Japanese art.
A memorial was held in New York on April 2 and a reception was held on April 4 at the Fogg Art Museum. Along with HUAM staff, in attendance were Li Green's parents William and Ann Li Green, brother Christopher Li Green, and friend Robyn Lee Shew.
– Jennifer Aubin, Harvard University Art Museums, and Craigen Bowen, Straus Center for Conservation, HUAM