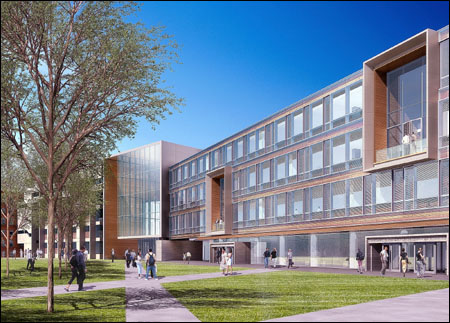 Harvard University's Faculty of Arts and Sciences (FAS) has begun construction of the Northwest Science Building at the north end of the Cambridge campus, laying a cornerstone for faculty growth in the coming years. Upon its completion late in 2007, the low-slung glass and wood structure is expected to house up to 30 faculty and their research groups.
Harvard received final city approval at a Feb. 15 public hearing of the Cambridge Planning Board.
The Skidmore, Owings, and Merrill (SOM)-designed Northwest Science Building marks a significant new direction in FAS building layout. Rather than being dedicated to specific academic departments, the building will be assigned to groups of faculty who share similar research interests. Its unusually flexible, open floor plan will encourage collaborative, cross-disciplinary research drawing on neuroscience, bioengineering, particle physics, and biophysics, among other fields.
"The Northwest Science Building's original design will reflect physically our commitment to equally innovative cross-disciplinary research collaborations," says William C. Kirby, Edith and Benjamin Geisinger Professor of History and dean of Harvard's Faculty of Arts and Sciences. "With such faculty collaboration, bringing together molecular and cellular biologists with physicists and engineers, the opportunity for path-breaking outcomes is a real and exciting possibility."
---
Harvard will implement the same system of neighborhood communication in use for current construction projects, including frequently updated on-site information boards and e-mail updates available via the
FAS construction Web page.
---
Designed by Craig Hartman of SOM's San Francisco office, the Northwest Science Building will house laboratories as well as nine classrooms, imaging facilities, space for research collections, and a pavilionlike multifunction room on its northeast corner. Some 60 percent of the structure's 460,000 square feet will be located in four underground levels; the above-grade portion of the building will also be four stories high.
The Northwest Science Building's main entrance will face the Harvard Museum of Natural History, providing the new facility with a south-facing presence on Oxford Street. Located partially atop Harvard's newly constructed underground parking garage, the building will nestle between the Harvard Museum of Natural History; existing Oxford Street structures including Conant Hall, the Engineering Science Laboratory, and 60 Oxford St.; the relocated and refurbished Palfrey House on Hammond Street; and Harvard's decommissioned, partially submerged electron accelerator facility. In recent years, much of the area to be occupied by the new building has consisted of surface parking lots.
The building's northern facades will face Hammond and Gorham streets, with a landscaped 100-foot setback from both streets. These facades have been designed specifically to present a pleasing face to nearby residents. The building will also permit pedestrian passage in a north-south direction, between the Harvard campus and the Agassiz neighborhood.
All areas around the Northwest Science Building will be complemented by landscaping designed by Michael Van Valkenberg Associates of Cambridge. The structure's architectural and landscape design is intended to extend the campus system of semi-enclosed open space and buildings north to Hammond Street, preserve and enhance the network of pedestrian pathways through the northern end of campus, create an appropriate transition between Harvard and the residential community, and create inviting and safe open spaces for use by both the University and residential communities.