NBC News' Andrea Mitchell to accept Shorenstein award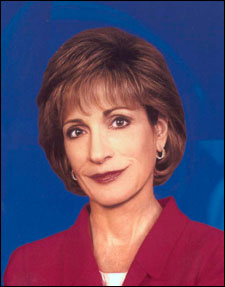 Sponsored by the Joan Shorenstein Center on the Press, Politics and Public Policy, the Goldsmith Career Award for Excellence in Journalism will be presented to Andrea Mitchell, chief foreign affairs correspondent at NBC News, on March 22, at 6 p.m. in the John F. Kennedy Jr. Forum, Kennedy School of Government. In addition, the center will award the Goldsmith Book Prizes and the Goldsmith Prize for Investigative Reporting.
The following day (March 23), Mitchell and finalists of the Goldsmith Prize for Investigative Reporting, including journalists from The Atlanta Journal-Constitution, The Atlantic Monthly, The New York Times, The Oregonian, The Seattle Times, and WFAA-TV in Dallas, will present the Goldsmith seminar – "The Present and Future of Investigative Reporting" – from 9 to 11 a.m. in the Taubman Building, fifth floor.
– Compiled by Andrew Brooks