Rick Warren came to the Kennedy School March 9 to promote God, civil dialogue, and his book "The Purpose Driven Life."
Of the three, the latter currently requires the least amount of publicity (except perhaps in the 02138 ZIP code). "The Purpose Driven Life" has sold a remarkable 20 million copies, making it the best-selling hardcover nonfiction book in U.S. history. As a result, Warren has gone from being a prominent California pastor to a global religious superstar. Time magazine recently ranked him as the most influential evangelist in America.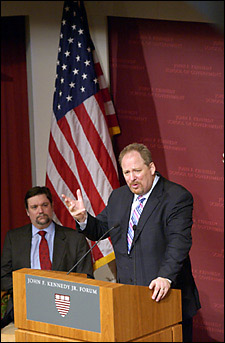 The cheerful and humorous Warren began his talk by suggesting the success of the book is related to the deepening interest in spirituality he has witnessed in the past few years.
"How do you explain this book, "Purpose Driven Life," by a pastor?" he said. "It's the No. 1 best-selling book in the world for two years. It's selling about a million copies a month. How do you explain that? I don't know. Nobody is more surprised than I am."
Warren pointed to several aspects of modern life that he feels have led to this rebirth in spirituality, including the speed and complexity of our culture.
"I hear all the time," Warren said, "'How do I simplify my life? How do I know what matters most and what really doesn't matter at all?' I think we are drowning in data and starving in meaning."
To find purpose in our lives, Warren said instead of taking the "look within" approach advanced by those such as Oprah Winfrey, we should look outward to our creator.
"I hope we are coming to the end of the generation of me-ism," Warren said. "For the last 40 years we've lived in a very narcissistic culture. We've been in a society that says it's all about you. Every area of our culture has been influenced by this self-centeredness, including the church."
An audience member questioned Warren on the religious and political polarization in America today and asked if there is a "Christian position" on such issues as the taxes, guns, and the war in Iraq.
"Do I believe my faith should inform my politics? Absolutely," Warren replied. "In fact, if I segment my life and say I keep my spiritual life over here, my sex life over here, my family life over here, my business life over here, it means one thing: I lack integrity. Integrity means it is integrated. It is holistic. It is together as a whole."
---
---
"But is there a 'church position' on a particular issue, no I don't believe that at all," he added. "I believe in your own conscience you should come up with it."
Warren, who founded Saddleback Church with his wife in 1980 and now averages 20,000 in attendance each weekend, spoke about the need to respect one another despite differences of opinion. The media is partly to blame, he said, for the crude discourse. "They have created shows that are essentially shouting matches," he said. "Part of my goal is to create a civil dialogue."
Warren was also asked about how he handles his newfound wealth. "I still live in the same house," he said. "I don't own a mountain home, a beach home. I still drive a Ford, although I'd love to have one of those Hummers."
Warren, who said he and his wife live on 10 percent of their income and give away 90 percent, has set up three church-based foundations to help fight AIDS and poverty worldwide.
The forum address was sponsored by the Institute of Politics and The Saguaro Seminar: Civic Engagement in America.