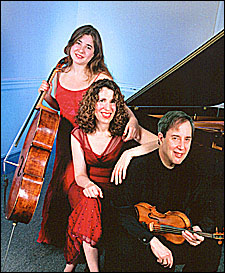 Under the baton of music director and conductor Jonathan McPhee, the Longwood Symphony Orchestra (LSO) will present the Weilerstein Trio on March 12 at 8 p.m. at the New England Conservatory's Jordan Hall. Featuring conservatory faculty members Donald Weilerstein (on violin) and Vivian Hornik Weilerstein (on piano), and their 21-year-old daughter Alisa Weilerstein (on cello), the trio will perform works by Beethoven, Panufnik, Prokofiev, and Sibelius.
The performance will benefit the Joslin Diabetes Center in Boston, which aims to improve the lives of people with diabetes through innovative care, education, and research.
Composed primarily of health care professionals and medical students from Boston's major hospitals and medical schools, the LSO sponsors four concerts a year at Jordan Hall that benefit a nonprofit organization with a medical mission.
Conductor McPhee will present a lecture on the music of Prokofiev, Panufnik, and Sibelius prior to the concert in Jordan Hall at 6:30 p.m. All ticket holders are welcome to attend.
Tickets ($15 for seniors and students, and $25 for general admission) are available by calling the Jordan Hall box office at (617) 585-1260, or through the LSO Web site, http://www.longwoodsymphony.org.