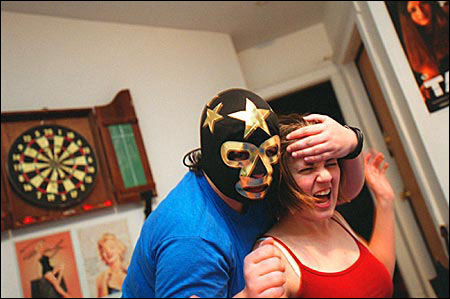 Photo by Stephanie Mitchell
After getting facial surgery with no anesthesia, Wrestler X not only had scars, she had a grudge against Nurse Agony, who messed up the operation.
The grudge wasn't enough in December, though.
That was when Nurse Agony (above right) brought a world of hurt onto Wrestler X, her marred face hidden behind a mask. But Wrestler X still got her licks in.
"She won the match, but I broke her nose," Wrestler X explained later, sitting calmly in a nearly deserted John F. Kennedy Jr. Forum at the John F. Kennedy School of Government. "We had a blood packet and I broke it on her nose. Blood went everywhere. It was a lot of fun."
"Wrestler X" is the alter ego of Kimeee Heatley, database coordinator in the Kennedy School's External Affairs office and Web site coordinator for the Kennedy School's Alumni Affairs office.
Heatley and two apartment-mates stumbled on an ad last spring looking for women interested in starting a wrestling organization in Boston. Fans of professional wrestling as kids, the trio thought it'd be fun and contacted the organizer: Nurse Agony.
"It just sounded hilarious and we said, 'Sure.' And that was that," Heatley said.
Since then, Heatley has developed her Wrestler X persona to fit into the tongue-firmly-in-cheek world of Boston League of Women Wrestlers, which includes such stars as Coach Schwetty and Ms. Ann Thropic.
"I like it that it's performance," Heatley said. "There's physical action, comedy, drama, and music as well."
The group – a package deal with the wrestlers, an announcer, a referee, and the band "Sexual Fudge" – has performed two shows so far, one last April at the Boston Underground Film Festival and another in December at the Honah Lee Holiday Extravaganza. Heatley said that they're working on upcoming bookings.
Heatley said she practices about once a week – more when a match is coming – getting particular moves down and working with the wrestler she'll be fighting. She said it takes a lot of practice to master the complex choreography to make the moves look real and – blood packets aside – to ensure nobody gets hurt.
"When you're going through learning the moves, you get bumped and bruised, you can fall wrong," Heatley said. "Last match I did fly off a chair, that was fun."
Heatley said they try hard to stick to the script during the match, but they have a fallback if someone forgets a move.
"That's when you get a lot of grapples and hair pulling, so you can ask 'What are you doing? You're supposed to be doing this move,'" Heatley said.