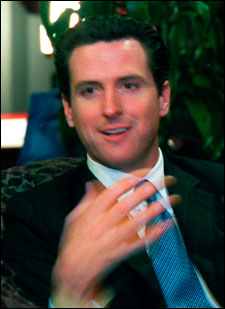 San Francisco Mayor Gavin Newsom, who excited the ire of many with his decision to marry gay couples contrary to state law, told an audience at the Kennedy School Forum Tuesday night (Feb. 8) that he remains committed to marriage equality.
"I wanted to put a human face on discrimination," he said. "It's one thing to have an ideal, and it's another to implement that ideal."
Last February, Newsom ordered the San Francisco County clerk to make a simple change to the marriage application – ridding gender classifications from the form. A lesbian couple, who had been together for 51 years, were the first to exchange vows using the new application. Eighty-seven other gay couples married that first day and more than 4,000 gay couples followed suit.
"None of you could have walked the halls of City Hall and not had the same emotional feeling and connection that I did," Newsome recalled. "We didn't touch just 4,000 couples. We touched tens of thousands of lives. It wasn't just about the couples. It was about mothers, brothers, fathers, uncles, and cousins. It was about sons and daughters."
Within days of the ceremonies, however, opponents took the mayor to court, and last August the California State Supreme Court ruled that the gay marriages performed in San Francisco were not valid. Newsom told the forum audience that despite the setback, he remains determined to continue the fight.
"This is not a country that is immune from codifying and institutionalizing discrimination," he said, harkening back to laws preventing interracial marriage. "You can't wait for public opinion to move social justice forward. Women wouldn't be voting. Blacks probably still wouldn't be citizens."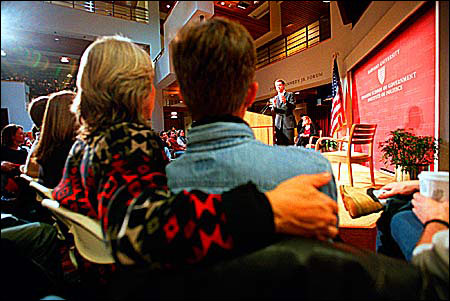 Newsom, who was raised Catholic, said he does not buy the argument that allowing gays to marry will undermine the sanctity of marriage. "Marriage didn't come to an end as an institution [when gays were allowed to marry]. The fact is there is no irreparable harm. We are talking about marriage, an institution of stability. Isn't that our ideal?"
The Democratic mayor also took aim at some members of his own party, saying they've been hypocrites on the issue.
"I can't stand my party right now. They offend me. So many of our leaders are saying things privately to me now and they are attacking us publicly for what we are doing on the gay marriage thing. It's wrong."
In the end, he predicted, gays and straights will be treated equally at the altar.
"Whether you like it or not, this door will never be shut again. Gay marriage is going to be legal in the United States of America. It is a matter of time," he said.