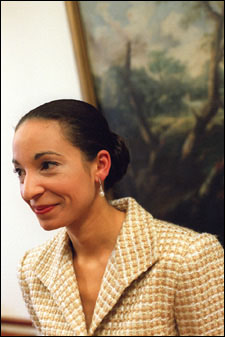 Nationwide, a higher percentage of students in charter schools are judged proficient on state reading and math exams than their peers in the nearest traditional school, according to a new study by Professor of Economics Caroline Hoxby. If a charter school has been operating for more than nine years, she found, 10 percent more students are scoring at or above the proficiency level in both subjects.
Hoxby's recent research extends the findings of a study she released in fall 2004 by examining characteristics of charter schools – including how long they have existed, how they're run and funded, and how their charters are structured – in addition to achievement data of students.
"This study really gets us inside the 'black box' of why charter schools are doing better," says Hoxby, who is also a faculty affiliate of the Program on Education Policy and Governance at the Kennedy School of Government. "It's more useful for policy-makers."
Other findings of the study, called "Achievement in Charter Schools and Regular Public Schools in the United States: Understanding the Differences," are that charter schools have the biggest impact on the achievement of students who are poor or Hispanic, and that the amount of funding charter schools receive relative to traditional schools has an impact on student achievement.
– Beth Potier