First-year men's hockey coach Ted Donato '91 will likely never forget his victorious Bright Hockey Center debut over rival Yale this past Friday (Nov. 12). Since adding a pair of wins against Princeton and top-rated Boston College, the rookie mentor is also certain to keep in mind a thing or two about the team's winning strategy – such as giving ample ice time to another rookie, forward Jon Pelle '08.
Over Harvard's past three victories, Pelle has notched three goals and two assists, earning ECAC Rookie of the Week honors along the way. After opening the season on the road with a tie and two losses, the Crimson have responded with three straight wins at home to improve to 3-2-1 (2-2-1 ECAC).
Down 1-0 in the final stanza against Yale this past weekend in the first of the home contests, Harvard unleashed 14 shots to break down Eli goalie Josh Gartner (44 terrific saves on the evening). Taking advantage of the power play, senior Andrew Lederman tallied the tying goal at 14:24 of the final period, firing a Noah Welch '05 feed from the blue line past the quick-gloved Gartner. Deadlocked at one apiece for much of the period, freshman Pelle scored his first collegiate goal at the 2:46 mark to put the Crimson on top, 2-1. Down a man in the closing moment, the Crimson took a two-goal lead with just 33 seconds remaining when senior Brendan Bernakevitch scored on a one-on-one fake-out for the 3-1 final.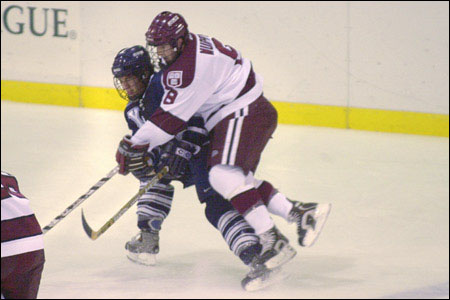 The weekend home stand continued to deliver fond memories for Donato and the new-feel Crimson, as Harvard shot past Princeton, 8-6, on Saturday (Nov. 13). The victory marked the Crimson's most explosive offensive outing in 10 years thanks largely to center Tom Cavanagh '05 and third-year winger Dan Murphy, who tallied three points apiece against the 2-3-1 Tigers (2-1-0 Ivy).
Harvard completed the home sweep on Tuesday (Nov. 16), upending the No. 1-ranked Eagles of B.C., 3-1, in front of nearly 2,800 fans. The win broke the Crimson's nine-game losing streak against their crosstown rivals. Pelle had another impressive outing against the Eagles, notching two goals in the win.
The Crimson take a break this weekend before resuming play against host Boston University on Nov. 23. At press time, the Terriers were 5-3-0 overall.