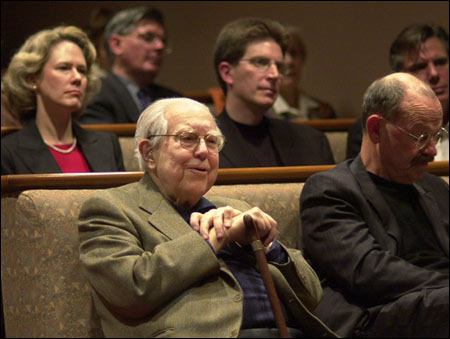 Elliott Carter has been called the world's greatest living composer. It is no slight to Carter's artistic achievement to note that this distinction is in part due to his remarkable longevity. At age 95, the two-time Pulitzer Prize winner is not only healthy and active but still composing orchestral music of outstanding brilliance.
Carter was at Harvard Nov. 9 for a special symposium and the screening of a film on the composer's life. In the afternoon, a trio of scholars delivered papers on Carter's music, followed by a panel discussion. The film, "A Labyrinth of Time" by Frank Scheffer, was shown in the evening. Scheffer, who took part in the panel discussion, specializes in making films about musicians. His subjects have included Pierre Boulez, John Cage, Igor Stravinsky, and Frank Zappa.
The symposium was held at the Minda de Gunzburg Center for European Studies, which co-sponsored the event along with the Harvard Music Department and the Boston Symphony Orchestra (BSO).
Carter, who earned an A.B. degree from Harvard in 1930 and an M.A. in 1932, sat with admirable equanimity and occasional flashes of enjoyment through the entire three-hour program. A short, nattily dressed gentleman with a Dickensian paunch, thick white hair, and a beaming face, he descended the steps of the small amphitheater with the aid of a cane, an elegantly carved wooden model. Before the start of the proceedings, he rose from his seat, made his way to the rostrum, and delivered some short remarks in a strong, unamplified voice.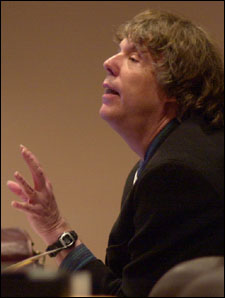 "Seventy-eight years ago, I was a freshman here. I was completely devoted to contemporary music – Stravinsky, Bartok. Charles Ives wrote a letter of recommendation for me. I wrote a big, dissonant piece that caused a great deal of consternation. But I went frequently to hear the Boston Symphony Orchestra and sat in those rush seats, and after a while I began to discover a little bit of harmony. I also sang in the Harvard Glee Club. And all of that contributed to my musical knowledge. My generation was the beginning of modernism in the United States. Lincoln Kirstein was in my class and so was Philip Johnson. I was part of a generation that contributed to modern art in the United States, and I owe that to my colleagues at Harvard."
Daniel Albright, a professor of English and American Literature and Language who has written extensively on music, began by alluding to the discomfort he felt having the subject of his talk sitting right in front of him.
"When I lecture on 'Midsummer Night's Dream,' I don't worry that Shakespeare is suddenly going to show up in the audience."
Albright, whose lecture was titled "Carter and the Poets," spoke about the special way the composer has responded to and written settings for the work of modern poets, including Elizabeth Bishop, John Ashbery, and Robert Lowell. He said that Carter not only listens to the words of the poem but through them as well, creating musical effects that embody the deeper meanings of the text. He called Carter's approach "an emancipated musical discourse" that constituted "a radical rethinking of the whole notion of setting words to music."
David Schiff, a composer and critic who teaches at Reed College in Oregon, spoke about Carter's 1956 work, "Variations for Orchestra." He traced Carter's development from a composer of neo-romantic pieces influenced by artists such as Sibelius, to a creator of more modern pieces embodying a "cool and sober elegance." According to Schiff, Carter's later music is characterized by a more systematic approach to rhythm influenced by jazz and a use of multileveled textures and harmonies.
Anne Shreffler, the James Edward Ditson Professor of Music, spoke about Carter's recent composition, "Symphonia," which the BSO is performing Nov. 11 and 12. Shreffler described this piece – and, in fact, most of Carter's output – as "instrumental drama," in which different musical voices react to one another very much like the characters in an opera. She quoted an interview with Carter on the subject of his one opera, "What Next?" in which he said, "I've been writing operas all my life, only this one has words."
Shreffler analyzed "Symphonia" as a musical narrative, but one that rejects the triumphant resolution of disparate musical elements so common in 19th century symphonic music, but instead allows those elements to exist independently.
"'Symphonia' lets these disparate, mutually contradictory forces coexist in an open-ended way. It is a symphony for our time."