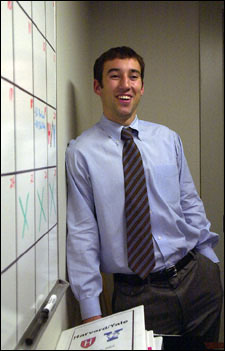 Although Harvard's reputation for academic excellence extends around the world, its reputation for fun has a far more limited reach.
A new position in the Harvard College Dean's Office aims to change that. Reporting to Assistant Dean of the College Paul J. McLoughlin II and working with Associate Dean of the College Judith H. Kidd, the special assistant to the dean for social programming is charged with helping overworked undergraduates create the relaxed, kick-back time with their peers they so value.
Zac Corker '04 holds the position, created this fall; he's toiling at it with the same energy and creativity that produced Mather Lather and HahvahdParties.com during his undergraduate career.
"He's a great organizer," says McLoughlin. "He has a proven track record of social organizing on campus. He knows who the players are, in terms of the student leaders. That's a connection that we're harnessing."
The creation of the job, a nine-month position, was a happy coincidence between McLoughlin and Kidd's examination of College social life and a persuasive proposal from Corker. Talking to students and reviewing senior surveys, the deans had identified social life – defined as distinct from extracurricular activities, which McLoughlin notes are increasingly preprofessional in their intensity – as an area of Harvard life that could use a boost.
Corker was on the same page. "As undergraduates, we approached it with a tongue-in-cheek attitude, as an oxymoron: 'Harvard social life,'" he says. "Harvard can be a pressure cooker academically. It's nice to have things you can go to and relax and have fun."
Fresh from his position as senior class marshal and a Harvard career stuffed with organizing social activities, Corker sent McLoughlin an unsolicited proposal detailing how he might help undergraduates generate more social opportunities and have more fun. McLoughlin and Kidd agreed, with some hesitation, to circumvent the usual hiring process and take immediate advantage of Corker's unique skills and willingness to help. Further, Corker had already been offered a Peace Corps appointment in the summer of 2005, giving the deans an opportunity to explore such a position within a limited time frame.
McLoughlin admits that Corker was not, in some ways, an obvious choice for a University Hall administrator. His marquee undergraduate achievements, the first foam-filled Mather Lather party in 2003 and the party clearinghouse Web site HahvahdParties.com, both ran afoul of the Harvard administration, albeit for reasons McLoughlin quickly notes that had nothing to do with Corker's skills or creativity (Mather Lather was overcrowded and the Web site initially used the "Harvard" name without permission). Corker's impressive work on the Mather House Committee and as a senior class marshal, as well as his thoughtful proposal and his willingness to walk the thin line between undergraduate and administrator convinced McLoughlin and Kidd of his suitability for the job. And they haven't been disappointed.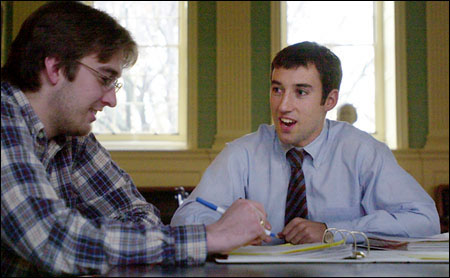 Business of parties
Perched atop University Hall in a small fourth-floor office, Harvard's professional party guy is all business. His desk groans under the weight of four-inch-thick binders labeled "Harvard-Yale 2004"; they're stuffed with legalities and negotiations that will ensure the University's biennial celebration complies with a myriad of city codes and liquor laws. And with a range of events from a pancake breakfast to a barbecue to, oh yeah, a football game, Corker is confident that Harvard-Yale will be a success.
"The Game," with its tentacles reaching far beyond the student body to alumni, graduate students, the cities of Cambridge and Boston, and visitors from New Haven, has surprised Corker with its complexity. But after a few months of creating synergies among Harvard's disparate student social organizers – the House Committees, H Club, Crimson Key, the Undergraduate Council's (UC) campus life and first-year social committees, among others – the new administrator has grown accustomed to Harvard's intricacies.
Corker and his supervisors are clear that his job entails facilitating students' ideas, not coming up with them on his own. "One of the things I heard from Zac … is that student groups kept saying, 'We can't do that, that's just too big, I don't think we can do it in time,'" says McLoughlin. It's Corker's job to egg them on: "What if you had more time? What if you had money? What would you want to do?" he counters.
Corker ran logistical interference for an Undergraduate Council-sponsored Halloween bus trip to Salem, Mass., for instance. He arranged large-screen viewing of the World Series in Loker Commons, so first-years, whose dorms do not have the spacious viewing facilities of the upperclass Houses, could cheer on the home team. Last week, he helped first-year prefects run a speed dating event in Loker.
Although he's sometimes in the unenviable position of having to tell his former pals "no," Corker believes his role sends a positive message to Harvard students that the University cares about them socially as well as academically. To McLoughlin, Corker's proximity to the undergraduates has proved a bonus.
"Despite Dean Kidd and I being really willing to meet with students, I think there are a lot of students who see us versus them," McLoughlin says. "I think Zac is hopefully helping to take down some of those walls."
Students just wanna have fun
While Kidd, McLoughlin, and Corker have identified priority areas for enhancing social opportunities – more alcohol-free events, more campuswide gatherings like concerts or parties, better programming for first-years – they're steadfast in their overall commitment simply to help Harvard students have fun with each other.
McLoughlin and Corker speculate on a variety of reasons for student dissatisfaction with Harvard's social life, from the randomization of Houses to the rise of Final Clubs to what McLoughlin calls "the Chuck E. Cheese generation" of young people who have enjoyed a youth of carefully scripted birthday parties and organized playdates. "Is it possible that these students aren't as comfortable at planning their own social life? I don't know the answer to that," says McLoughlin. Finding out what students want from their college social life is top among his priorities.
From the perspective of a very recent graduate, Corker only has to look a few months into the past to know how important social life is to students' experience at Harvard. He recalls that during his own Senior Week, his classmates repeatedly deemed their friends and social connections the most valuable part of their Harvard experience.
"All undergraduates here are lucky enough to be in the company of such great classmates," he says. "The more you can do while you're here to get to know them, to understand them, to learn from them, the better."