It was a question Nora Nercessian couldn't answer, and like any good researcher, she made it her business to fill in the blank.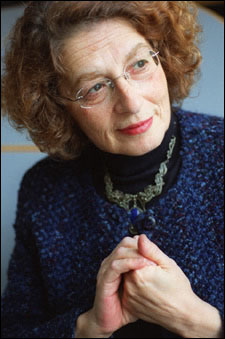 What she didn't realize was that her search would launch her on a three-year odyssey, nationwide in scope, culminating in an emotional celebration of triumph in the face of overwhelming difficulties.
The question that stumped Nercessian was this: How many people of African descent graduated from Harvard Medical School before affirmative action?
"I didn't know," she said. "The number was not recorded. So the only way was to do research. But I had no intention of writing a book. I simply wanted to compile as comprehensive a list as I could."
But as the list grew, it metamorphosed into a collection of moving and dramatic life stories, and these biographies merged to form one greater story – how a group of self-selected individuals faced enormous obstacles to obtain a medical education.
At last Nercessian, associate dean of alumni affairs and special projects at the Medical School, was persuaded that nothing less than a book could do justice to this inspiring tale of achievement. For three years, she worked mornings, evenings, and weekends on research and writing of the nearly 300-page volume. The book, which was published by the Medical School this past October, is titled "Against All Odds: The Legacy of Students of African Descent at Harvard Medical School before Affirmative Action, 1850-1968."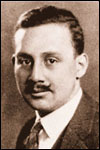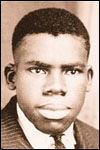 Ferdinand Augustus Stewart (from left), Harvard Medical Class of 1888; Aaron Lawson MacGhee, Harvard Medical Class of 1917; Euclid Peter Ghee, Harvard Medical Class of 1927; Hildrus Augustus Poindexter, Harvard Medical Class of 1929 (Stewart and MacGhee photos courtesy of the Harvard Medical Library in the Francis A. Countway Library of Medicine; Ghee and Poindexter photos courtesy of the Office of Alumni Affairs, Harvard Medical School)
Nercessian scoured the School's 11,000 registrar's cards several times, looking for hints of students' racial status. When these were inconclusive, she looked for corroborating evidence in the archives of other schools and in sources such as the African American Biographical Database. She finally succeeded in confirming a total of 85, not all of whom left with medical degrees. But Nercessian decided that the book should not only celebrate graduates, but rather all those who secured a place in the Medical School's entering class and those who came for postgraduate training. The latter group amounted to at least 43 individuals.
"I was adamant that this would not just be about the famous, but about everyone who wished to study medicine at Harvard. It's a book about aspirations, a book about dreams, and about achievement on a grand scale."
Sometimes those dreams could be cruelly deferred, especially for some of the School's earliest African-American students. In September 1850, the School admitted its first three students of African descent – Daniel Laing, Isaac Snowden, and Martin Delaney. But soon after they began their studies, trouble erupted. A group of 27 medical students out of a total enrollment of 113 signed a petition protesting the presence of blacks in their class.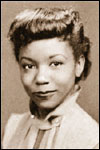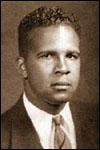 Cyril Johnstone Jones (from left), Harvard Medical Class of 1944; James Louis Sykes, Harvard Medical Class of 1950; Mildred Fay Jefferson, Harvard Medical Class of 1951; Chester Middlebrook Pierce, Harvard Medical Class of 1952 (Photos courtesy of the Office of Alumni Affairs, Harvard Medical School)
In their petition, the students resolved that "we cannot consent to be identified as fellow-students, with blacks: whose company we would not keep in the streets, and whose society as associates we would not tolerate in our houses." The language of the petition implied that if the black students remained, the whites would withdraw. The faculty, led by Dean Oliver Wendell Holmes, caved in to student pressure and the three black students were expelled in March 1851.
Black students had to wait until the signing of Lincoln's Emancipation Proclamation before getting another chance. Edwin Howard matriculated in 1866 and earned his medical degree in 1869. Born in Boston, Howard attended Boston Latin School, then moved to Monrovia, Liberia, to study at Liberia College. After receiving his medical degree from Harvard, he practiced in Charleston, S.C., and in Philadelphia, where he helped to establish two hospitals serving blacks and was one of the founders of Sigma Pi Phi, the first black fraternity in the United States.
Admission to Harvard Medical School was an important milestone in the lives of these pioneers in the fight for racial equality, but it was by no means the solution to all their problems. Many of these students were the only blacks in their class and had to deal with isolation, loneliness, and outright rejection during their studies.
Nercessian cites the example of Hildrus Poindexter, who graduated in 1929 and went on to a distinguished career with the U.S. Army as an expert on tropical diseases and as a professor of medicine at Howard University. But in his autobiography, "My World of Reality," he writes of his struggles as the son of tenant farmers who had to work in a coal mine to finance his education and of white female patients who refused to be examined by him during grand rounds.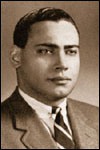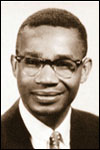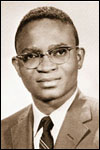 Oscar Stanton DePriest III (from left), Harvard Medical Class of 1954; Okogbue Okezie, Harvard Medical Class of 1957; Rudolph St. Clair Cumberbatch, Harvard Medical Class of 1959; Olumuyiwa Oredugba, Harvard Medical Class of 1968 (Photos courtesy of the Office of Alumni Affairs, Harvard Medical School)
"Every time I think about him, I get choked up," Nercessian said, "and I'm not a sentimental person."
Nercessian said that as she was writing the book, she often wondered about the experience of these students, about the inner resources and strength that kept them going.
"What kind of fortitude does it take to concentrate on your studies, to see everything going on around you and still push forward?"
As the book neared completion, Nercessian made an effort to contact every black pre-affirmative action graduate who was still living or the descendents of those who were deceased and invited them to a celebratory dinner at the Medical School. A total of 18 were able to attend, and Nercessian describes the gathering as an emotional one.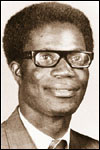 John C. Anane-Sefah (left), Harvard Medical Class of 1970; Edgar L. Milford Jr., Harvard Medical Class of 1971 (Photos courtesy of the Office of Alumni Affairs, Harvard Medical School)
"The atmosphere in the room was electrifying. One of the graduates said he felt it was like a revival meeting."
Since the book's publication, she has received numerous letters and e-mails thanking her for her research and commenting on the importance of bringing these biographies to light. She believes that while these stories evoke the injustice of a less tolerant age, they also attest to hope and perseverance that can only enhance the story of medical education in America.
"We're very proud of the students of African descent who came to Harvard Medical School before affirmative action. Conditions were very different then, and it took a lot of work for things to change, but it's a whole other chapter of the story of Harvard, and it can only enrich the institution's history."
A limited number of "Against All Odds" are still available, free of charge. Please send your mailing address to Nora Nercessian at nora_nercessian@hms.harvard.edu to obtain copies.