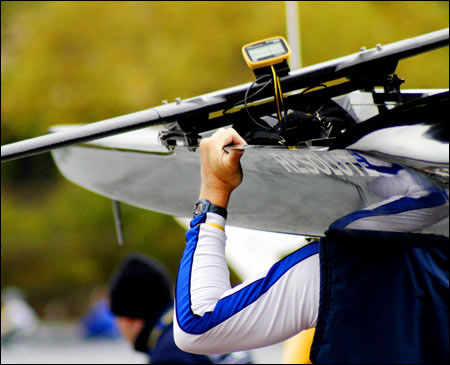 A crowd of 200,000 braved gusty conditions to take in the 40th annual Head of the Charles Regatta this past weekend (Oct. 23-24). Meanwhile, between the banks of the river, the choppy water on the famously windy course with six bridges tested boats from Harvard, Radcliffe, and across North America and Europe.
During the men's championship eights race on Sunday (Oct. 24), the nasty wind drove Princeton Training Center (the U.S. national boat) to ram up against the inside of the middle column of the Eliot Bridge, stalling the skull for what amounted to 34 seconds. Remarkably, the nine-time winners crossed the finish at 11:12.709 for a sixth-place showing in a field of 37 teams.
Regatta organizers had actually shortened the course to 2.5 miles – a half-mile below its normal distance – in response to the tough and rumble Charles. The reduction was just the second since the event's inaugural run in 1964.
It came down to a sprint in men's championship fours action, as US Rowing beat out Harvard by 23-hundredths of a second. The Crimson finished 11th and 16th, respectively, in lightweight and collegiate eights. In women's action, Radcliffe took 1st in lightweight fours; 6th in the youth eights event; and 8th in championship eights.
While offering plenty in the way of bragging rights, regatta results are not factored in the team's season record.