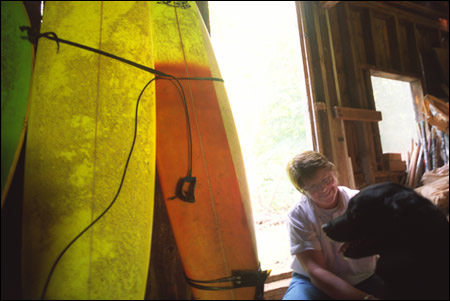 Photo by Kris Snibbe
When Julia Ashmun was a teenager, she told her mother she wanted "to be proficient on the water, in the water, and under the water." Given Ashmun's coastal upbringing, which included stints in California, Florida, the Caribbean, and a year on a 27-foot sailboat, such a goal was not far-fetched. By age 15, Ashmun taught scuba diving and sailing and was an avid surfer. The family's move to New England added frozen water to Ashmun's repertoire, when Boston University recruited her to play ice hockey before she knew how to skate. "I had never seen a hockey game before, but I was in really good shape," she says.
Ashmun, who works as a systems programmer and analyst for Harvard College Libraries, still fills her off hours with a dizzying and season-spanning array of extracurricular and athletic pursuits. She not only sails, she has spent the past three years refurbishing her 1967 30-foot sailboat to its former glory and outfitting it with 21st century electronics. She returned to surfing after a hiatus of several decades, and although she no longer owns her own plane, tries to fly when she can. And while she's relinquished most of her coaching duties, she continues to play hockey on the New England Women's Travel Team and the Bad Dogs, an international travel team.
"I'm always looking for new things to do," she says, "as long as they're safe." To Ashmun, five-day foggy sails to Nova Scotia and flying ultralight planes qualify as safe.
Despite working long hours and commuting to Harvard from her home in southern New Hampshire, Ashmun is unfazed by the time commitments of her many interests, which also include squash, ocean kayaking, Jet Skiing, and travel.
"If the weather's stormy, it's a good day to go surfing. If it's not stormy but windy, it's a sailing day. If there's no wind, it's a good day to fly," she says. With indoor rinks, hockey fills in the gaps year-round. She admits that she doesn't leave too many of Harvard's vacation days or holidays on the table.
Ashmun's zeal for watery hobbies has swept colleagues and friends into surfing and sailing; her evangelism for women's hockey has an activist bent, as she works to promote the sport internationally, particularly in poorer countries. And she urges everyone – lapsed athletes, committed couch potatoes, and desk jockeys alike – not to let aging joints or busy lives keep them from learning new ways to have fun. Take a lesson and don't be afraid of looking like a walrus on a surfboard or a klutz on the bunny slope, she advises. "If there's something you want to do, go do it."