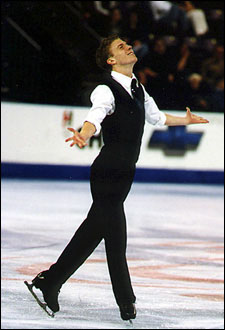 Top Olympic and world skaters will continue their battle against cancer this fall as they again gather at Harvard to participate in "An Evening With Champions" – America's premier figure skating exhibition.
Skating champions past and present will join host Paul Wylie '90-91 on the ice this October to benefit the Jimmy Fund. Since it began in 1970, "An Evening With Champions" has raised more than $2.1 million for cancer research and care.
Wylie, the 1992 Olympic silver medalist, will make his 19th appearance with the show. He will be joined by an impressive slate of talent that features 2004 national champion Johnny Weir, 2002 Olympic bronze medalist Timothy Goebel, 2004 national ice dancing champions Tanith Belbin and Benjamin Agosto, 2004 national bronze medalist Jenny Kirk, and Massachusetts favorites and 14-time national precision skating champions the Haydenettes.
---
Tickets are $30 for adults and $10 for children and senior citizens, and may be purchased by calling (617) 493-8172. Group rates are also available. For more information and an update on performers, visit
http://www.aneveningwithchampions.org.
---
A Boston tradition organized by Harvard's Eliot House, "An Evening With Champions" will take place at Harvard's Bright Hockey Center with performances scheduled for 8 p.m. on Oct. 8 and 9.
Founded in 1948 to raise funds for the fight against children's cancer, the Jimmy Fund supports the search for new cancer treatments for both adults and children at Dana-Farber Cancer Institute, recognized as one of the world's leaders in cancer research and care.