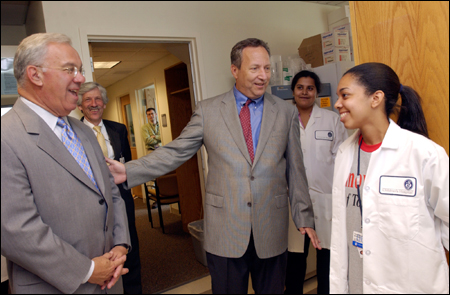 Nearly 150 area high school students participating in summer science programs gathered today (July 23) at the Longwood Medical Area for Boston's "other convention."
Wielding convention-style placards with their program names, including Project Success, CURE (Continuing Umbrella of Research Experience at the School of Public Health), and RAP (Research Apprenticeship Program at the School of Public Health), among six others, these "Innovators of Tomorrow" came together to promote the importance of fostering young people's interest in medicine and the life sciences.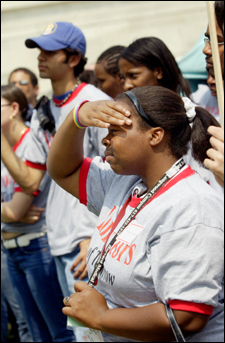 The event, part of Celebrate Boston 2004 Innovation Week (July 18-23) and organized by the Harvard Medical School's (HMS) Office for Diversity and Community Partnership, kicked off with a student-conducted lab tour for Boston Mayor Thomas M. Menino and Harvard University President Lawrence H. Summers. Held in the Enders Research Building at Children's Hospital, the tour was led by Francesca Morency, a Boston Latin School senior from Mattapan and Project Success participant who studies the development of the kidneys and congenital kidney disease.
A poised and articulate young woman in jeans and a white lab coat, Morency explained to Summers and Menino that her research focuses on how gene expression influences kidney cells in mice. Morency said she had a personal reason for studying kidney disease. "My grandfather died of kidney failure," she said.
Morency's interest in biology began in the seventh grade when she took a course in environmental science.
"I fell in love with the subject. I have a love of all the sciences, but the life sciences and medicine are my favorites," she said.
Project Success was founded in 1993 by Joan Reede, dean for diversity and community partnership at HMS. The program places Boston and Cambridge students in HMS-affiliated hospitals and research sites during a paid, eight-week summer program. Program participants complete hands-on, mentored research projects under the supervision of HMS faculty, attend science and career development seminars, and enhance their speaking and writing skills by preparing oral presentations and research reports. Since the program's inception, 99 percent of its alumni have matriculated at four-year colleges, two have gone on to medical school and one to dental school, and a number have completed graduate degrees.
Following the tour, Menino and Summers headed outdoors to address the students, as well as a host of Boston area biotech and life sciences executives in attendance.
"It's great to be here with all of you students who are planting the seeds of the future," Menino said. "Harvard has been participating with Boston in so many programs that put young people on the right path. That's what life's all about – making choices. Make the right choices and you have a great future."
Summers thanked the mayor for his efforts, which make the city a better place, and asked his listeners to imagine a circle centered on the Medical School Quad and extending to a radius of three miles.
"There is no area on the planet that is comparable in terms of talent in understanding and curing disease, and we are part of that," he said. "The students here are the future of the city and of the country. What you learn and experience and decide to do is more important than anything else."
Project Success graduate Karlene Boswell, a fourth-year student at the University of Massachusetts Medical School, relayed her experiences as a former summer science program researcher.
"I first began the program in the summer of 1994, and that experience opened up a cascade of opportunities that helped me in many ways," Boswell said. "My experiences in the lab have been a driving force behind my interest in science and have continued to help me in medical school."
The event also included talks by Robert Gould, vice president of Merck Research Labs (which is helping to build a new research facility at 33 Louis Pasteur Ave.), and HMS Dean Joseph B. Martin. After the speeches, the students enjoyed a cookout in the quad with volleyball, music, and informal discussions between students and Boston's biotech leaders.