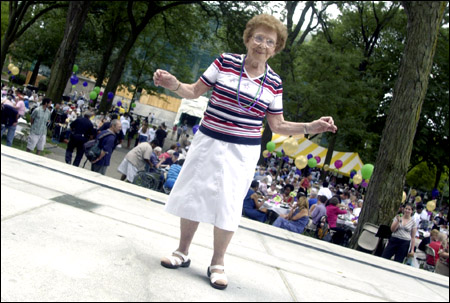 Balloons waved, jazz standards played, and Cambridge seniors danced on the steps of the Memorial Church during Wednesday's (Aug. 4) 29th Annual Senior Picnic in Harvard's Tercentenary Theatre.
Cambridge Mayor Michael Sullivan and Thomas Lucey, Harvard's director of community relations for Cambridge, welcomed hundreds of senior citizens to the shade beneath Tercentenary Theatre's tall trees.
"We want to thank Harvard University, our sponsor today, for opening up the Yard and for the fine weather," Sullivan said in welcoming comments.
Lucey extended greetings to the seniors from Harvard President Lawrence H. Summers, and said that the annual picnic is a way for Harvard to show its appreciation to one of its home communities.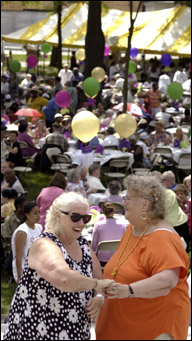 Cambridge Mayor Michael Sullivan (right) examines a fly-swatter held by David R. Slavitt, a candidate for state representative.  Slavitt was handing out  fly-swatters, with his name embossed on the handle,  to people at the picnic. Margie Judd of Cambridge (right) dances with her niece, Trudy McGrath, of California.  McGrath returned home to celebrate her mother's birthday.
"Today's Senior Picnic is one way that Harvard can show how much it values its relationship with Cambridge and with the seniors who helped build Cambridge into the community it is today," Lucey said. "It's an event we look forward to every year."
The seniors, some of whom have been coming to the picnic for years, said the event was a good way for the University to open up to the community.
"It's a nice break in the summer," said Joan Swarms, 70, who has attended the picnic for the past four or five years. "I think it's really great of Harvard to do it."
Joyce Wasson, 75, took the opportunity of the picnic to revisit Harvard. Wasson graduated from Harvard Extension School with a bachelor's degree in 1979.
"I think Harvard, in many ways, tries to make a connection with the community," Wasson said. "It's good that it does."
The picnic itself was a fun affair, with balloons waving from tables set up under the trees between Widener Library and the Memorial Church. Musicians circulated, treating seniors to semi-private renditions of songs such as "Hello, Dolly!" – complete with saxophone and trumpet accompaniment. A colorful balloon artist toting a bag of pre-filled balloons made hats and other treats for the assembled crowd and staffers distributed colorful beads to each attendee.
The afternoon's program included a host of familiar songs, from the patriotic "America the Beautiful," sung in honor of men and women serving in the military, to the swinging "Chattanooga Choo Choo." In between were songs ranging from "Little Brown Jug" to "When the Saints Go Marching In."
Sullivan said the event, co-sponsored by his office and by the University, is a nice way for Harvard to reach out to Cambridge and welcome seniors to campus for a day.
"It's a nice way of building community relations," Sullivan said. "It's a day out [for the seniors] and a way of saying thank you for all they've done in the community."