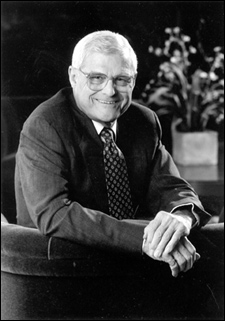 Edwin Raymond Corey, a professor at Harvard Business School (HBS) for more than 40 years, died on May 28 at his home in Wellesley from complications following abdominal surgery. He was 84.
An authority on industrial marketing who, in the 1950s, created the first course on the subject at HBS, Corey was a multitalented professor who wore many hats – as head of several of the School's executive education programs in the 1960s, for example, as director of research from 1980 to 1986, and as one of the founders of the Harvard Business School Press in 1984.
A 1941 graduate of Amherst College, Corey first came to the School as a participant in a yearlong training program for officers in the U.S. armed forces preparing to serve in World War II. Once he completed his tour of duty as a lieutenant in the Navy, he returned to campus and earned his M.B.A with high distinction in 1946.
Corey then undertook a Ph.D. in business economics at Harvard, with an eye
---
Donations may be made to Duxbury Bay Maritime School, P.O. Box 263A, Duxbury, MA 02331, or to Hospice of the Good Shepherd, 2042 Beacon St., Newton, MA 02468
---
toward pursuing a career as a corporate economist. But as he was finishing his degree in 1948, he agreed to teach a couple of sections of a first-year M.B.A. course at the request of the School's dean at the time, Stanley Teele.
Corey remained on the HBS faculty for the rest of his career, retiring in 1990 as the Malcolm P. McNair Professor of Marketing. His many achievements as a teacher, innovator, researcher, case writer, administrator, and mentor made him a revered figure among countless students and faculty members.
Assigned to the marketing area after receiving his doctorate, Corey quickly saw the need for an industrial marketing course. "Until that time," he explained in a 1993 interview, "the focus of our work had been entirely on consumer products. The opportunity to teach in a management seminar at General Electric, however, turned me in a different direction."
The second-year elective course on industrial marketing Corey taught was the beginning of the School's commitment to this field of study; it led to the development of industrial marketing courses at other business schools as well.
Corey made his initial foray into executive education at the School in 1959, when he was asked to chair and teach in a newly redesigned offering for midlevel managers called the Program for Management Development (PMD). His success during the next four years in putting PMD on a firm footing led to his appointment in 1963 as chairman of the advanced management program for senior executives, which also flourished under his direction.
For most of the 1970s, Corey was back in the MBA Program, teaching first-year marketing and taking on the duties of course head from 1977 to 1980. In that role, he was an early advocate of adding cases with an ethical dimension to the marketing syllabus, and he devoted much of his time as well to helping junior faculty members become more effective teachers and researchers.
In 1980, Corey was made director of research, a position that took on added importance, since the School was then reaffirming its commitment to expanding the body of knowledge in every facet of the curriculum. The author of more than 150 cases and a number of highly regarded books, Corey oversaw a remarkable period of achievement by HBS professors during his six years as director, including the publication of 127 books, 377 articles, 1,322 field-based cases, 346 working papers, and eight course modules.
To celebrate the School's 75th anniversary in 1983, Corey was the driving force behind a series of 16 research colloquia that involved 80 HBS faculty, along with a large number of participants from business, government, and other universities. "These colloquia had a number of long-term effects," Corey once recalled, "from providing a catalyst for new work being done on campus to encouraging people from the School's different disciplines to focus on problems of common interest."
Beyond all this, under Corey's leadership workshops on case writing and field research were created to hone the skills of faculty, doctoral students, and research assistants. While director of research, Corey helped start the Harvard Business School Press (HBSP) in 1984 and served as chairman of HBSP's publication review board for several years.
In 1993, Harvard Business School honored Corey with its Distinguished Service Award. During his retirement, Corey remained an active scholar, continuing to write books and articles. He also enjoyed sailing, golf, and woodworking projects with his grandchildren.
Corey is survived by his wife of 36 years, Charlotte Worrall Corey; by two sons, David of Newton, and Frederick of Natick; three daughters, Margaret Stockton of Cohasset, Joy Mills of Charlton, and Mary Stockton of San Diego; and nine grandchildren.
– Harvard Business School