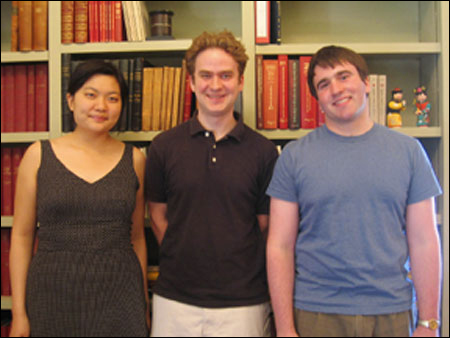 Junior Matthew Gibson has been awarded first prize in this year's Visiting Committee Prize for Undergraduate Book Collecting for his entry "Learning to Read Russia." Second prize was awarded to Adrien Finlay '04 for an essay and bibliography that explores materials about opera, and third prize went to Amy Lee '04 for her entry "Zines as Feminist Ephemera." An exhibition featuring items from the three collections is on display at Lamont Library, Level 5.
Students were asked to submit an annotated bibliography and an essay that spoke to issues such as early collecting efforts, influence of mentors, the experience of searching for items, organization and care of items, and future direction of the collection. A total of 24 students declared their intention to enter the competition and 13 handed in their work for consideration. The jury consisted of Heather Cole, librarian of Hilles and Lamont Libraries, Mary Beth Clack, research librarian in Widener Library, and Melanie Evans, assistant head of access services and reserves specialist in Lamont Library.
The Visiting Committee Prize for Undergraduate Book Collecting was established in the spring of 1977 to recognize and encourage book collecting by undergraduates at Harvard. Members of the board of overseers' Committee to Visit the Harvard University Library sponsored the prize. Cole, who has coordinated the competition since its inception, annually selects a jury from among College Library staff with noted bibliographic expertise.