The Harvard Graduate School of Education (GSE) recently announced that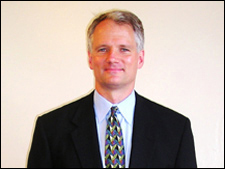 William McKersie will become the School's new associate dean for development and alumni relations on Sept. 1. McKersie brings more than 20 years of experience in education and philanthropy to this newly created position at GSE.
McKersie is currently project director for the High School Transformation Initiative at Cleveland Heights High School in Cleveland Heights, Ohio. Heights High is one of 20 urban high schools in Ohio transforming into small schools as part of a statewide initiative, and McKersie has facilitated a comprehensive change process involving more than 80 individuals and several foundations and community agencies. Previously, McKersie oversaw all K-12 and higher education grant making for the Cleveland Foundation, the nation's oldest and second-largest community foundation. With the Cleveland Foundation, McKersie recommended more than $25 million in grants for education, and worked on major changes in leadership and professional development, as well as data management and analysis in the Cleveland public schools. McKersie also helped launch Catalyst Cleveland and the Ohio Eight (a superintendent/teacher union president collaborative), and served on several national and state panels. McKersie is a "critical friend" for the Teachers' Union Reform Network, a national coalition of AFT and NEA locals.
Ellen Condliffe Lagemann, Charles Warren Professor of the History of American Education and dean of the Harvard Graduate School of Education, comments: "I have known Bill McKersie for a very long time and am delighted he will be joining us in September. In addition to his significant expertise in the world of philanthropy, he brings to HGSE a demonstrated commitment to creating educational opportunities for children. We are fortunate to have someone as talented as Bill McKersie to lead our development effort."
Before going to the Cleveland Foundation, McKersie served as a program officer and then senior program officer for education at the Joyce Foundation, where he helped launch Catalyst Chicago, the Consortium on Chicago School Research, and the Center for School Improvement at the University of Chicago, and generated major funding for implementation of the 1988 Chicago School Reform Act. He began his career as an administrator and basketball and soccer coach at the Northfield Mount Hermon School in Massachusetts.
McKersie has written frequently on education and philanthropy, including "Lessons for the Future of Philanthropy: Local Foundations and Urban School Reform" which appeared in "Philanthropy and the Nonprofit Sector in a Changing America," (C.T. Clotfelter and T. Ehrlich, eds.; 1999) and "Local Philanthropy Matters: Pressing Issues for Research and Practice" published in "Philanthropic Foundations: New Scholarship, New Possibilities," (Ellen Condliffe Lagemann, ed.; 1999).
McKersie earned his Ph.D. in educational policy from the University of Chicago. He also earned an Ed.M. in administration, planning, and social policy at GSE, and a B.A. in social psychology from Tufts University.