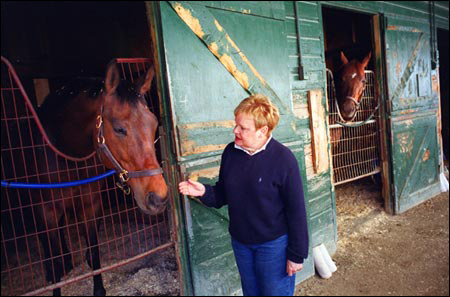 Photo by Stephanie Mitchell
"Instead of buying a boat or a vacation house on Cape Cod, we decided to invest in a racehorse."
Susan Rodliff and her husband Paul took the plunge almost 20 years ago. Beachfront property in Truro might have appreciated faster, but on the whole they have no regrets. They now own six horses and spend their free time conferring with trainers, cheering their horses at the track, or touring Kentucky horse farms to find the right stallions to breed with their mares.
"We go to Suffolk Downs early Saturday morning to watch the trainer work with them. It's beautiful. It gets us out of doors. Some people go to the beach. We go to watch our horses."
Rodliff, an executive assistant at Harvard Medical School, says the greatest thing about owning horses is the rush of adrenalin when you see them win.
"They're your babies. They've grown up with you. You've seen them through sicknesses, injuries, and then to see your horse come down the home stretch and you're rooting for them all the way – it's something you just have to experience."
Rodliff's biggest thrill as a racehorse owner was seeing her mare Crescent Coast win her first race at Aqueduct Race Track, December 19, 1999.
"We didn't want to go to New York five days before Christmas, but we went anyway, and she won. She was the longest shot on the board."
But racing has its disasters as well. After a promising start, Crescent suffered a leg injury while running on a wet track. The Rodliffs learned she had foot problems and were forced to retire her after only a few races. But Crescent may still become the mother of champions. Rodliff points to a photo of a spindly-legged colt trotting beside a sorrel mare.
"That's Crescent with her foal. He was born on April Fool's Day. He's only two days old in this picture."
The Rodliffs are still trying to come up with a suitable name for the new colt. A racehorse's name can be no more than 18 characters long, and new names must be submitted to the Jockey Club to make sure there are no duplicates. This can be more challenging than it might seem.
"We wanted to name one of our horses Coughin' Susan, after me because I had bronchitis that year, but we found out it was used already."
The Rodliff's other horses are The Lights Are On, Freedom on the Wind, Terra Kate, and Tactical Tango.
But whatever they decide to name the new colt, Rodliff knows he will be a thoroughbred – in every sense of the word.
"There's a kind of nobleness about them, a sort of aristocratic feeling."