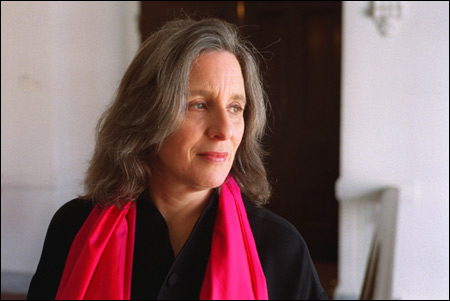 The subtitle of Mary Gordon's reading, the final of the Radcliffe Institute for Advanced Study's Dean's Lecture Series (April 28), promised "Swimming Between Fiction and Nonfiction." And Gordon delivered, with a stroke so effortless that the waters of memoir, essay, and fiction flowed into a smooth confluence, their borders barely distinguishable. Gordon's swimming skills served her equally well in emotional waters, as the acclaimed author and Radcliffe Fellow masterfully delivered the audience from wry hilarity to shocking sadness to tender passion, and back again.
"She has swum … across genres with a consistent brilliance of language and perception and an urgency of personal and moral vision," said Radcliffe Dean Drew Gilpin Faust in her introduction.
Laughing about the still-unwritten novellas she described on her application to Radcliffe ("That's what's great about Radcliffe," Gordon said, "you can do what you want."), Gordon read several "things I didn't intend to be working on" that she wrote during her fellowship. As with her novels, "Final Payments," "The Company of Women," and "Spending: A Utopian Divertimento" among them, Gordon's latest work embraces and wrestles with love and passion: of mother, father, and child; of God and Catholicism; of work and marriage.
In "My Mother's Bosses," an essay from a book about her mother, Gordon paints a many-hued portrait of a woman who worked because she had to, long before the women of Gordon's own generation worked because they had won the right to. "My mother was never only mine," she writes in her characteristically spare prose decorated with occasional elegant, almost baroque phrasing. "She had a boss. She was a secretary long before she was my mother." Her mother's work, as a legal secretary, defined her worth. Gordon describes the Saturday visits to Mr. Herman's office, where Gordon wrote poems on stenographers' pads at Mr. Herman's desk while her mother caught up on typing and filing. On his desk, she writes, "the pens were meant not for writing, but for signing, and so their relationship to words was singular."
In the end, "My Mother's Bosses" – like much of what Gordon read – is as much a mother-daughter story as a secretary-boss tale. While he didn't always share his secretary's devotion to Catholicism – "Some Sundays he was not even at Mass" – Mr. Herman did not "handle" divorce. After his death, when the firm did take on divorce cases and Gordon herself divorced from her first husband, her mother turned to her for worldly advice about a case the firm was handling. "'What's oral sex?' I tried gently to enlighten her," writes Gordon. Her mother, furious and dumbfounded, responds, "You made that up. No one but you would think that. You see why Mr. Herman wouldn't touch divorce?"
On writers, cripples, locker room stinkers
A series of essays on Flannery O'Connor, called "Flannery's Kiss," also probed Gordon's mother-daughter relationships, as well as the complexities of sexuality and writerly perfection. "How can I think of her and not think of myself as heavy with the things of this world: men, children, dogs, food, clothing, all the distractions of sexual allure," she writes of O'Connor. Holding O'Connor as the idealized image of an artist, Gordon struggles to consider herself a real artist. "For my writing life, Flannery has been an inspiration and a torment."
The essays mused on the parallels between the writers' lives. Their fathers both died early; their mothers were both solid financial supporters but never understood what their daughters did. Catholicism holds both families in its tenacious grip. Both O'Connor and Gordon's mother were afflicted, Flannery with crippling complications of lupus and Gordon's mother with the aftermath of polio. "I look at Flannery's crutches and I think, inevitably, of my mother," Gordon read. "Perhaps the kinship is not between Flannery O'Connor and me as writers, but Flannery O'Connor and my mother as members of the company of the afflicted."
In her story "I Need to Tell Three Stories and to Speak of Love and Death" Gordon shifts from the terrain of mothers and daughters – only temporarily, and not entirely – to explore father relationships, love, death, shame, and the interconnectedness of three stories. Deftly moving from self-deprecating humor to deep pathos, the narrator tells the story of a smell that wafts up from the ladies' locker room in a well-appointed gym. The naked middle-aged women at the lockers discreetly sniff themselves for offending odors, but the culprit turns out to be an older Indian woman who had "an accident" on the floor of the bathroom. "We know that we are all ashamed, but we do not know why," Gordon writes.
Fiction as fact, fact as fiction
Gordon closed her well-attended reading with a section from a novel, "Pearl," in the works for seven years and finally due in print in February. Maria is the mother of Pearl, a college student abroad in Dublin who associates with "IRA wannabes" and launches a hunger strike.
Maria's trajectory through the turbulent decade begins in Catholic school, where she and her friends sing at folk Masses and "think of their lives as a wonderful movie." After the assassination of President John F. Kennedy, Gordon writes, "the world is not as they thought, but they still think they can change it." They come of age as feminists and want to marry someone like Bobby Kennedy or Harry Belafonte, whom they will introduce to their parents with blasé defiance. As their bodies change, the world changes into the deceit and anger of the late 1960s and Maria's hope recedes. "Which is real? Which is the truth? 'I get by with a little help from my friends' or bayoneted children?" Gordon writes.