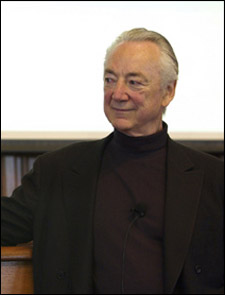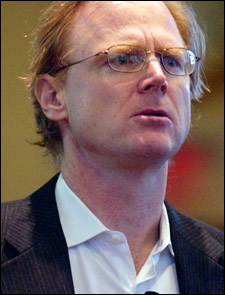 From pornography to privacy, domain names to Napster to iTunes, Harvard Law School's Berkman Center for Internet and Society grappled with the complex legal issues of the cybercourtroom at its three-day Internet Law Program (iLaw) last week (May 13 – 15). Some of the leading thinkers in cyber law, including Harvard Law School (HLS) faculty members William Fisher, Charles Nesson, and Berkman Assistant Professor of Entrepreneurial Legal Studies Jonathan Zittrain, presented cutting-edge, often controversial views on the ever-emerging field.
The slippery issue of copyright law, specifically as it pertains to the music and entertainment industries, was Thursday morning's agenda. Fisher and Nesson posed two responses to what Fisher, the Hale and Dorr Professor of Intellectual Property Law and faculty director of the Berkman Center, called "the crisis in the music industry," while Stanford Law School professor Lawrence Lessig took a broad view of current copyright laws and their impact on free speech and the promotion of progress.
While their approaches and messages varied, the three agreed that the current state of litigation, contempt for copyright laws, and criminal charges rising from downloading music is problematic. "It's actually not such a great state of affairs that somewhere on the order of 16 million Americans, more than voted for President Bush, are currently engaged in illegal activities," Fisher said.
Fisher's proposal drew from economics to advocate for a government solution, arguing that copyright law itself is a legislative solution to an economic issue. For the same reason that government oversees roads and armies to ensure their creation and upkeep for the greater good, it should keep a hand in the creation of music, movies, and other creative property. "Unless the government does something, there will be insufficient incentives to create," he explained.
Yet in the digital age, copyright law has been deteriorating; it's swamped, Fisher said, by the volume of nonlegal activity such as peer-to-peer file sharing that threatens it. He proposed a reward-based system of compensation: the government would raise funds by taxing devices such as broadband Internet access, DVD and MP3 players, or blank CDs, then it would compensate producers of media based on the frequency of consumption of their product.
"The advantages of this approach, if implemented, are quite substantial," he said. For a tax of approximately $5 per month on broadband service, consumers could legally download unlimited entertainment. For artists, Fisher's proposal would provide a reliable source of income and the ability to distribute their work directly to consumers, not relying on intermediaries. And while suppliers of devices and services might suffer in the short term as costs rise, the new structure would increase demand for their products.
Fisher was upfront about his proposal's shortcomings: measuring use of creative products, particularly via peer-to-peer downloads, would be tricky, he said, although the current music industry cannot reliably measure such consumption, either. And his "regime" is fraught with the same concerns that burden any government tax scheme. Those who don't benefit from the service – who use their broadband access only to send e-mail and never download music – pay the tax nonetheless. Further, "there's a fair amount of discretionary government power winging around in this system, always a hazard," he said.
Taking the middle ground
Describing his colleague's proposal as "truly radical," Nesson, the William F. Weld Professor of Law and Berkman Center founder and faculty co-director, offered another solution to the battle that pits the copyright industry against what he called "the swarming masses of downloaders."
Between Fisher's complete abandonment of the copyright system and the recording industry's anachronistic fidelity to it, he said, may be "a ground in which the war is neither won nor lost but the battle continues." He called his proposal "first-in-line auto-competition"; it works on the premise that copyrights should be protected for a limited time.
Using technology that he said is currently available, Nesson's system would target those who "seed" peer-to-peer networks like KaZaA with the first digital copy of a new release. The program works on behalf of the copyright holder by identifying the first seed of a release, preventing others from downloading it, and sending a notice to the "seeder" asking him or her to take it down.
Nesson acknowledged that his proposal, too, had potential pitfalls. It may not put an end to all illegal downloading, he said, but it should slow it significantly, driving would-be scofflaws to legal systems of acquiring copyrighted entertainment. "The committed, knowledgeable person with loads of time will, under this system – probably under any system – always be able to get something for free," he said. "But it doesn't take much of an impediment for Joe Average to say 'iTunes.'"
Free culture, free speech
Lessig's presentation on "Free Culture," which is also the name of his most recent book, stepped back from fine-grained solutions to copyright law problems and instead looked theoretically at the evolution of copyright law, the promise of technology, and the bottom-up democracy that is being fostered by digital technology.
In a talk peppered with video presentations, Lessig outlined how copyright law has become increasingly restrictive, as technology has enhanced our ability to spread culture. In 1978, the average copyright lasted just 32 years, now it's 70 years or more. Before 1975, copyright protection was granted only if it was requested, feeding the public domain automatically. Now, almost everything is automatically copyrighted; reproduction or use of it demands often daunting, labyrinthine pursuit of permissions.
"The difference is astonishingly large and missed in the public debate," he said. "We have never in history lived in a time when fewer people exercised more legal control over the development and spread of our culture than now."
Lessig showcased ways in which digital technology has made the tradition of creative copying far more fruitful, from comedian Jon Stewart's provocative "interview" between Gov. George W. Bush and President George W. Bush to Charlie Brown and his gang dancing to Outkast's hip-hop at their familiar Christmas pageant. A "duet" of the treacly Lionel Richie-Diana Ross ballad "Endless Love" between perfectly lip-synched images of Bush and British Prime Minister Tony Blair illustrated both the height of creative possibility and the promise of democratic free speech enabled by technology.
"It's not The New York Times democracy, but a blogger democracy," said Lessig. "This is the potential of this technology." Where such creativity was once burdened by technology, he said, now it's copyright law that threatens to silence this creative free speech.
Citing examples of copyright law bleeding into democratic debate, Lessig stressed that the current focus on downloading music misses the mark. "To hell with getting Britney Spears for free off the Internet," he said. "This debate is about whether we as a culture have the right to use technology to spread our ideas broadly."