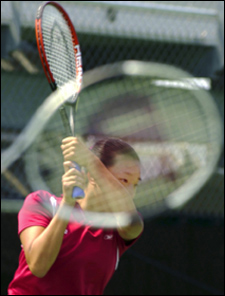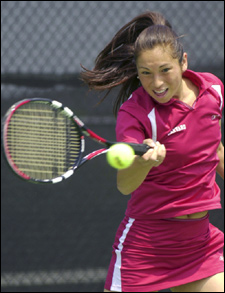 On the long road to the 2004 NCAA tennis championships, the Harvard men's and women's teams encountered a fair share of potholes and roadblocks. And success. Ultimately, the women got lost somewhere against visiting Ohio State, while the Crimson men cruised past Tulane to advance to Tulsa – the site of this year's Sweet 16.
The end-game started on Friday (May 14) at home when the No. 34 Crimson women fell to the No. 39 Buckeyes, 4-2, before the Harvard men – ranked 21st nationally – put away No. 19 Tulane on Sunday (May 16) by the same score.
On Friday, junior partners Courtney Bergman and Susanna Lingman opened play ambitiously for Harvard with an 8-3 win over Erica Fisk and Jackie Leskovar. But the Buckeyes made their move at No. 2 doubles when Harvard sophomore Eva Wang aggravated a quad injury in mid-match. The half-hobbling Harvard duo (which included junior Alexis Martire) never recovered its on-court finesse, dropping three of its next four games to give Ohio State the 8-4 victory. The Buckeyes clinched the point at the No. 3 spot with another 8-4 win over first-year Preethi Mukundan and Melissa Anderson '06.
In singles action, the Crimson showed life early on when Anderson quickly dismissed Lindsay Adams, 6-1, 6-2, to knot the match score at 1-1. Bergman – ranked 39 nationally – put Harvard up 2-1 by defeating Lindsay Williams, 6-3, 7-5. Yet the early surge proved to be Harvard's only points on the day, as Ohio State went on to pull out three straight three-set matches to end the Crimson's season at 14-10.
Against Tulane on Sunday (May 16), the Harvard men captured the final two doubles matches – initially falling to the frightful pair of Dave Goulet and Michael Kogan (ranked 12th nationally) – to grab an early 1-0 lead. The Green Wave tied things up at 1-1 when Alberto Sottocorno defeated Jack Li '07 in singles action, 6-1, 6-4, but Harvard responded with two straight wins – courtesy of Martin Wetzel '05 and co-captain David Lingman '04, who out-battled the nation's 11th best player (Kogan) for the 6-2, 6-4 win.
Tulane captured the following match to cut the Harvard edge to 3-2, but the Crimson responded (again, with little regard for the hierarchy of ranking) when No. 89 Jonathan Chu '05 beat out No. 46 Dmitriy Koch, 6-3, 6-4, to clinch the 4-2 victory.
The Crimson (who blanked Quinnipiac, 4-0, in tournament action on May 15) resume play on Saturday (May 22) in the Round of 16 at the University of Tulsa against defending national champions Illinois. This year marks Harvard's fourth trip to the Sweet 16. Check http://www.gocrimson.com for updates.