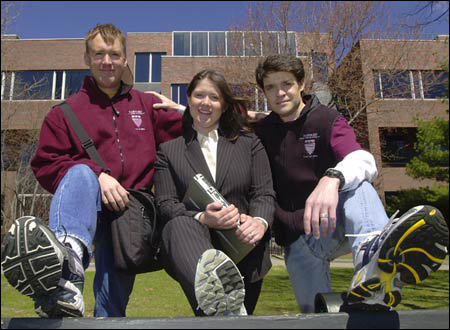 Kennedy School of Government (KSG) student Kate Kohler is so youthful and bubbly, it's hard to imagine her as a veteran of the U.S. Army or a dedicated marathon runner.
Yet when the conversation turns to the New England Shelter for Homeless Veterans, her pet public service project, Kohler's passion and dedication intensify. More than 50 percent of our nation's homeless population is veterans, she says, and as a fellow vet, she's driven to help.
"I would like to raise awareness that these are people who made a special contribution to our freedom, and they have special needs. This organization, the New England Shelter for Homeless Veterans, they're trying to address those needs," she says.
Suddenly, it's not so hard to envision Kohler running the 26.2 storied miles from Hopkinton to Copley Square – or serving as a military police captain in Kuwait, Bosnia, and Korea.
Running the Boston Marathon on April 19, Kohler will join two classmates from the KSG – Capt. Ken Robbins and Robert Manson – as "Foot Soldiers," a team
---
Shelter information, donations
---
raising money for the New England Shelter for Homeless Veterans (NESHV). As runners and public servants, they have a special connection to the charity that allows them, in exchange for raising $2,500 each, to run as official entrants in the marathon without qualifying with a competitive time.
"Issues of homelessness and people not being taken care of by society is an issue that's close to my heart," says Manson, an Irish citizen who ran the Dublin Marathon on behalf of a children's shelter. "That vets can be living on the street – to me, that's amazing."
Kohler says that as soon as she read about NESHV, which provides training and counseling as well as safe shelter for veterans, she was committed. "I've gotten a chance to serve with a lot of different people," she says. "You know sometimes that even though people are trying to do their best, sometimes they have challenges that cause them to fall on serious hardships."
Robbins, whose Kennedy School studies are part of his Army active duty, has also seen the plight of some veterans up close. "I know some of them struggle once they get out," he says of the men and women who have served under him.
Cool running, hot fundraising
For any serious runner, the lure of the Boston Marathon is powerful. "Boston is the runner's marathon," says Manson, who's run the New York and Rotterdam marathons in addition to Dublin. "It's in some ways the Holy Grail."
"I'm near the most historic marathon in the world," adds Kohler, a two-time veteran of the Austin Marathon. "I had to give it the old college try."
The trio logged hundreds of training miles, rising at dawn on frigid weekend mornings to meet with other Foot Soldiers and charity runners for weekly long runs, which peaked last week at 21 miles.
This winter's unusually tenacious cold tested their mettle. "I never envisioned myself contemplating avoiding frostbite while training for a marathon," says Manson.
The fundraising forecast was decidedly more pleasant, however. Robbins, who made his marathon debut last year with the Foot Soldiers team, has coached the others on fundraising techniques and is now working to exceed the required $2,500 goal. Manson credits his years in the workforce with providing him with wealthier (that is, nonstudent) pals to call on; he's just short of his target.
For Kohler, fundraising is tied to awareness building. Selected by Massachusetts-based running shoe maker Saucony as one of its "Saucony 26," her photo and story will be featured on the Saucony Web site (http://www.saucony.com). While the complimentary running shoes accompanying the honor provide welcome relief to her student-strapped pocketbook, Kohler is more excited about bringing additional exposure to NESHV.
At Harvard, she says, "I wasn't sure if people would be receptive about donating to a veterans' organization. … But every time I've talked to my teachers or my classmates, the response has been overwhelmingly positive."
The Foot Soldiers have found enormous support for their cause at the Kennedy School, and, says Kohler, a great respect for her service to our nation. "That kind of spirit has no monetary value," she says. Classmates and teachers have made donations and plan to cheer the three on along the course. Sen. Robert Mazzoli, whom Kohler spotted running along the Charles River, contributed dollars and motivation.
"It's people like him who inspire you to say, 'if you really want to accomplish something, you can,'" says Kohler of her septuagenarian classmate and fellow veteran.
Tonight, the three have invited KSG students and others to join Institute of Politics Fellow and former Navy SEAL Jesse Ventura at the team's happy hour fundraiser at Brother Jimmy's Barbecue in the Square.
Robbins sees the support as a natural extension of the Kennedy School's appreciation for public service in all its forms. "Everyone here is as committed as you are to what they do," he says.