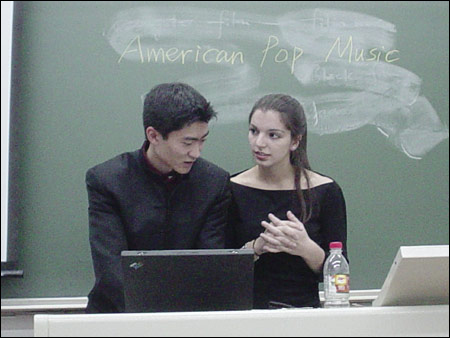 Harvard College, striving to increase international experiences for its students, may now have one more arrow in its quiver, thanks to the student-initiated Harvard in Asia Project (HIAP). Chaired by David Yuan '06 and Silas Xu '05, HIAP returned triumphant from its first-ever exchange with Peking University, or Beida, in Beijing earlier this month. During spring break, 21 Harvard students made the 10-day trip, aimed at enhancing cross-cultural understanding between the students of the two universities – and at changing the Harvard students' college experience.
"Asia is just developing and transforming so quickly. It's a very relevant area," says Xu who, like Yuan, is a native of China and active in Harvard's Chinese Students Association.
Yuan, who has been astonished by the pace of change in China each time he visits, concurs. "The only way to really learn about that is to go. You can't read about that in a textbook," he says.
As students whose own culture-hopping backgrounds have invaluably informed their life experiences, Xu and Yuan, along with the other four directors of HIAP, crafted a trip that maximized the international impact of the relatively short visit. Equal parts formal presentations and casual discussions and sightseeing put the Harvard – or "Hafo Da" – students in constant contact with their Beijing counterparts.
"You can go to a country and be a tourist and see the sights, maybe you come away with a superficial understanding of the culture. But spending time with the students, becoming friends with them, having thought-provoking discussions – it was really intellectually stimulating," says Richard Freeman '04, one of the directors of the project. "We learned every time we turned a corner."
Intellectual exchange
Beida is China's most selective university and is nicknamed "the Harvard of China." It made a natural starting point for what the students hope grows into a multinational exchange. Beida's Student International Communication Association, or SICA, hosted the Harvard students.
While the directors are quick to note that HIAP is not a study abroad program,
---
For additional information,
http://www.hiap.org
---
it has intellectual exchange as its centerpiece. Sixteen Harvard students – the six directors selected 10 delegates from more than 130 applicants; the remaining participants were members of the Harvard Chess Team who challenged the Beida team – prepared and delivered presentations that represented a broad range of intellectual and cultural interests.
In fact, student delegates were chosen largely on the strength of their presentation proposals, says Xu. "We really wanted to show Beida the diversity we have at Harvard, the whole range of talents, ambitions, and backgrounds," he says.
Sarah Rea '06, a founder of the Harvard Progressive Advocacy Group (HPAG) who had no previous experience in China or Asian studies, joined HIAP Director Jon Einkauf '06 in a presentation about social change, with a particular focus on housing and homelessness. Two Beida students who are active in that university's major volunteer organizations also spoke.
"We ended up talking about poverty and gender equality or inequality. It was interesting to see how much they would speak up," says Rea, who adds that the Chinese students were curious about their American counterparts' efforts to stand up to the government. Rea adds that the informal meals, sightseeing activities, and karaoke nights that complemented the formal presentations fostered greater openness between students from the Harvard of China and the Harvard of Cambridge. The Chinese students, she says, were more forthcoming in one-on-one exchanges.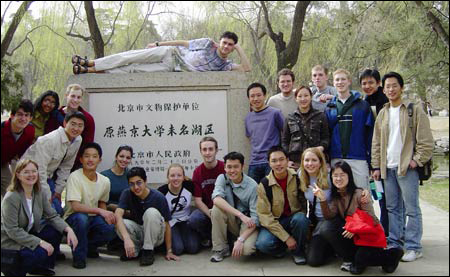 "When you're friends with someone, they'll be more honest with you," she says.
Other presentations, selected to stimulate discussion while attracting audiences larger than those that might attend a purely academic conference, explored the future of the space program, American popular music, and dating and mating rituals of U.S. students. Richard Cooper, Boas Professor of International Economics, joined the delegation and spoke about the future of the world economy.
A true exchange, HIAP will host a delegation from Beida this fall for what they hope is a reciprocal show of cultural and academic curiosity.
Student-initiated, University-supported
HIAP directors make clear that the trip to China was conceived as far more than a really cool spring break.
"My drive was really more ideological," says Freeman, whose Harvard career has been enriched by study and work experiences in South America, Europe, and Russia. "Every niche that there is for an international opportunity, let's run with it."
"International experience broadens students' horizons," adds Xu. "It will impact the way they make future choices at Harvard." With that in mind, he says, the delegation is heavier with freshmen and sophomores, whose longer Harvard horizon allows for more changes of course of study or career choice.
The students' forward-thinking initiative, which dovetails neatly with the University's priority toward globalization, won HIAP administrative support from around Harvard.
"The building of friendships and the broadening of mutual understanding achieved through this program illustrate the value of international experience in a Harvard College education," says William C. Kirby, dean of the Faculty of Arts and Sciences and Edith and Benjamin Geisinger Professor of History. "I applaud both Beida's and Hafo Da's students, and I look forward to seeing how next year's visit unfolds." Kirby, along with Harvard University Asia Center director Dwight Perkins, Burbank Professor of Political Economy, serve as HIAP's advisers.
The project also has official support from Harvard's Weatherhead Center for International Affairs, the Harvard-Yenching Institute, the Harvard Center for International Development, and the Undergraduate Council. And the students are effusive in their gratitude for President Lawrence H. Summers' backing; his office provided financial aid that eliminated money as a barrier to participation in the trip.
Harvard's Office of International Programs lent more than support; the office sent its assistant director, Leslie Hill, along. "This project introduced undergraduates to a part of the world they had never seen, and in a very short time, they began to learn about the values and aspirations of their peers in China," says Hill. "Trips like this give students a glimpse of how important it is to have international competence in order to be successful in their careers."
The importance of international competence was not lost on the delegates, even as they practiced tai chi, visited artists' galleries, or shared a Sino-American fondness for the sitcom "Friends."
"The challenge of multiculturalism is so very relevant in today's growing international network," says Rea. "The trip reinforced the importance of fostering one's desire and ability to get to know and cooperate with people of different backgrounds, cultures, races, political beliefs; to take steps toward a healthy globalized world."