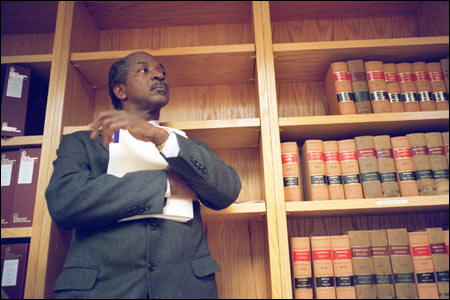 Professor Charles J. Ogletree Jr., the Jesse Climenko Professor of Law and vice dean for Clinical Programs at Harvard Law School, has been appointed director of the new Charles Hamilton Houston Institute for Race and Justice.
The institute is named in honor of Charles Hamilton Houston, a visionary lawyer who spearheaded the litigation in Brown v. Board of Education, the landmark case that ended segregation in public schools. Houston, a 1922 Harvard Law graduate and the first African American editor of the Harvard Law Review, also trained Justice Thurgood Marshall and Oliver Hill – pivotal players in the case – when they were students at Howard University School of Law in Washington, D.C.
"It is fitting that we announce the creation of this new institute in the same week that we celebrate the 50th anniversary of the Brown v. Board of Education decision," said HLS Dean Elena Kagan, who holds the Charles Hamilton Houston Professorship. "Charles Hamilton Houston was a scholar and an activist who had a tremendous impact on American society. Some have called him the man who stopped Jim Crow. We're proud to call him one of our distinguished alumni. And, in many ways, Charles Ogletree continues the work of Houston today – I'm thrilled that he will lead this new institute."
The Charles Hamilton Houston Institute will focus on a variety of issues relating to race and justice. It will sponsor research, hold conferences, and provide policy analysis. Ogletree envisions the institute focusing on civil and criminal law areas, with a special emphasis on issues of voting rights, the future of affirmative action, and the criminal justice system.
"I am delighted that Harvard is announcing the new Charles Hamilton Houston Institute for Race and Justice," said President Lawrence H. Summers. "The institute owes its name to one of Harvard Law School's most distinguished graduates, whose critical work in fighting for racial equality helped change America for the better, and whose dedication has made a lasting impact on the Law School. I am personally grateful to Professor Charles Ogletree for his vision and leadership in serving as its founding director."
"It is a distinct honor to serve as the founding director of an institute that will further the vision of racial justice and equality that was so well articulated by Charles Hamilton Houston," said Ogletree, who will spend the next several months further defining the role and mission of the institute. "I am also excited at the prospect of working with Howard Law School on various projects, in the same manner that Houston and Justice Marshall worked with Howard on the Brown case and other matters."
"I was thrilled to learn of the creation of the Charles Hamilton Houston Institute and of the appointment of Professor Ogletree as its director," said Kurt L. Schmoke, dean of the Howard University School of Law and a Harvard Law graduate. "Houston promoted the concept of the lawyer as a social engineer. Professor Ogletree's career has been exemplary of the Houstonian tradition."
Born in 1895, just blocks from the Supreme Court, Charles Hamilton Houston attended a prestigious all-black high school and later enrolled in Amherst College. After graduating from Harvard Law School, he traveled to Europe and Africa, and returned to the United States to assume a faculty position at Howard Law School. He served as the first special counsel to the NAACP and arguably contributed to every legal victory in civil rights from the 1930s through Brown v. Board of Education.
"My father would be honored to know that Professor Ogletree and Harvard are continuing his vision for equal justice under the law," said Charles Hamilton Houston Jr., a lecturer in the history and geography department at Morgan State University in Baltimore. "While we have made tremendous strides since the Brown decision, there is much still to do. This institute has the potential to make a real contribution."
The Charles Hamilton Houston Institute for Race and Justice is expected to begin its activities in fall 2005.