HARVARD STEM CELL INSTITUTE
While the new Harvard Stem Cell Institute aims to encourage scholarly examination of the ethical issues surrounding the institute's work, a Harvard committee has had a similar, but more practical, role for more than two years.
The Harvard Stem Cell Research Committee is charged with reviewing proposals by
---
Stem cell videos:

[default format for video is RealPlayer. For videos in Quicktime format, visit http://www.harvard.edu/multimedia/]
---
– More stories about stem cells
– Harvard Alumni Association videoconference on stem cells, "Unlocking the promise of stem cells"
– Harvard Stem Cell Institute hosts inaugural symposia (press release 4/23/04)
---
Harvard scientists – including those at the new institute – to work on human embryonic stem cells that do not qualify for federal funding under policies announced by President George Bush, who limited federal funding to lines in existence before Aug. 9, 2001.
The committee is made up of faculty from several schools, including the Faculty of Arts and Sciences, Harvard Medical School, the Harvard School of Public Health, and the John F. Kennedy School of Government. It is advisory to the provost.
"Some of Harvard's most distinguished scientists serve on the Harvard Stem Cell Research Committee in order to provide a rigorous review of the ethics surrounding human embryonic stem cell research," said Harvard Provost Steven Hyman. "The committee's review and recommendations ensure that human embryonic stem cell research at Harvard is conducted according to the highest ethical standards."
In cases where the research also involves human subjects, the research would undergo a second layer of review. Any research affecting human subjects is also reviewed by one of Harvard's institutional review boards, which ensures the work meets federal guidelines.
Richard Losick, the Maria Moors Cabot Professor of Biology and chairman of the Harvard Stem Cell Research Committee, said the committee's major concern is ethics.
"This kind of research begins to raise questions on the boundaries of research. What is ethical and what is not ethical?" Losick said.
Human embryonic stem cell research is conducted on cells extracted from blastocysts – bundles of cells just a few days old. Researchers working on a number of diseases are excited by the potential of these cells to develop into any kind of tissue in the body. The researchers hope that capability will one day lead to effective treatments for a variety of diseases resulting from organ or tissue failure, including diabetes and Alzheimer's disease.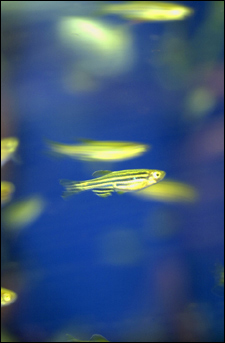 The embryos used in this research result from in vitro fertilization procedures, where infertile couples have their eggs and sperm combined in a lab and then implanted in the woman's body. Excess eggs that result from the procedure are frozen and are routinely discarded by the clinics.
Harvard isn't the only entity examining ethical issues surrounding this research. The National Academy of Sciences is proposing to draft voluntary guidelines that will encourage responsible practices in embryonic stem cell research. The proposal, which has received strong support from the Association of American Universities, would constitute a set of widely accepted standards for this type of research.
With stem cell research progressing rapidly, Losick said, the Harvard Stem Cell Research Committee examines each case independently, reviews applicable state, local, and federal laws, and makes decisions based on the case's merits.
Over time, Losick said, those individual decisions would combine to constitute guidelines for future cases.
Losick said extreme cases – such as reproductive cloning that would produce a baby genetically identical to an adult – would be easy to reject.
"That raises profoundly troubling ethical issues," Losick said.
Reproductive cloning is distinct from therapeutic cloning, which would create cells and tissues that are a genetic match for the donor, and which would be an important step in the development of successful stem cell-based therapies.
Though the ethical extremes in stem cell research may be clearly defined, it is in the gray areas that the committee will find its toughest challenges.
"The difficulty lies in between," Losick said. "There is no clear line."
With its ethical mandate, Losick said the committee strives to ensure academic and scientific freedom. History has shown that research that some might deem impractical has had surprising, useful, and even revolutionary results. With that in mind, he said, the committee doesn't pass judgment on the basic science behind a researcher's proposal or on whether it will result in a greater good to society.
"We try to restrict ourselves to the ethical issues surrounding research," Losick said. "My presumption is freedom of inquiry for a Harvard professor. One never knows in science what kinds of basic research will have benefit."