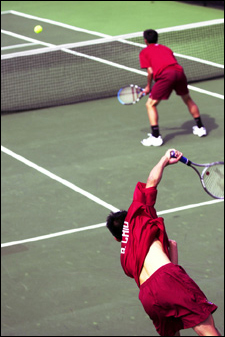 The reigning league champion Harvard men's tennis team inched closer to a repeat performance this past Saturday (April 17) with a not-so-slight 7-0 shutout of visiting Penn. Still perfect in league play, the Crimson (18-6, 4-0 Ivy) – who also downed Princeton, 5-2, a day earlier – next face Brown, also 18-6, 4-0 Ivy, this Friday (April 23) in Providence in a match-up that will likely have title implications.
Against the Quakers, coach Dave Fish's Crimson captured the doubles point with two straight wins at first and second before sweeping singles play. Only one match in singles action, the final showdown between Harvard's Brandon Chiu '06 and Penn's Jimmy Fairbanks, was forced to three sets.
To open doubles play, junior Jonathan Chu and Brandon Chiu registered an 8-4 win against Anthony Pu and Fairbanks before Harvard senior-tandem Mark Riddell and David Lingman (ranked 36th in the country with a 26-8 individual record) defeated their Quaker competition, 8-3, at No. 2 to clinch the point. Penn captured its sole match of the afternoon at third doubles when Quakers Craig Rubin and Todd Lecher downed the new senior-freshman duo of George Turner and Gideon Valkin, 8-6.
In singles action, Jonathan Chu set the tone for Harvard with a 6-0, 6-3 win in the top match over Penn's David Lynn. Lingman, Riddell, Turner, and junior Martin Wetzel followed suit with straight-set victories, before Fairbanks of Penn provided some resistance in the first set of the final match, downing Brandon Chiu, 6-2. Chiu responded with a pair of 6-3 victories in the second and third sets to ensure the sweep.
With the win, Harvard – ranked 20th nationally – extends its win streak to 12. Friday's showdown against the chronic rival Bears kicks off at 2 p.m. Since the 2002 season, both Brown and Harvard have proved victorious in 17 of their past 18 Ivy outings: losing exclusively to one another. Visit http://gocrimson.com for updates.