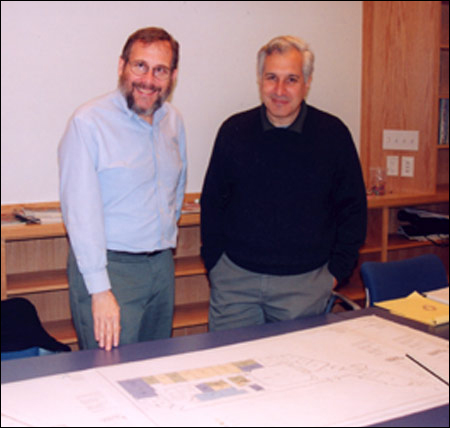 Harvard has long been recognized for its strength in neuroscience: Researchers in the Faculty of Arts and Sciences (FAS) are leaders in studies of behavior, perception, and brain development, while Harvard Medical School (HMS) was the first in the nation to establish a department of neurobiology.
Building on these resources, the newly formed FAS Center for Systems Neuroscience (CSN) will help to recruit nine new faculty researchers to strengthen the University's existing team of neuroscientists. Using genes and molecules as windows on the brain, CSN scientists will seek to clarify how genetic variations contribute to normal and pathological behavior among individuals.
"The astonishing discoveries made by neuroscientists in recent years have rewritten our understanding of the human brain," says William C. Kirby, dean of the Faculty of Arts and Sciences and Edith and Benjamin Geisinger Professor of History. "Unlike most neuroscience centers around the world, which bring together subfields within the life sciences, we will also enlist researchers who are not usually part of such enterprises, including evolutionary biologists and ethologists, psychologists, chemists, engineers, computer scientists, and physicists. These scientists bring new ways of thinking as well as unique theoretical and technical perspectives."
Neuroscience encompasses the study of virtually all facets of the brain and nervous system: sensation and perception, learning and memory, sleep, stress, aging, and neurological and psychiatric disorders. Neuroscientists also study the molecules, cells, and genes that make up the nervous system. Bridging the gap between the behavioral and the molecular will be a significant part of CSN's mission; the new center is also expected to build bridges across the Harvard campus.
"The Center for Systems Neuroscience will strengthen significantly the FAS's already strong neuroscience program," says Steven E. Hyman, provost and professor of neurobiology. "But, as important, it will create tremendous new opportunities for collaboration with the Medical School, putting Harvard at the very forefront of research in this exciting and critical area."
For most of its 30 years as a distinct discipline, neuroscience has drawn on the expertise of researchers across the life sciences. CSN will broaden interdisciplinary collaboration in the field, proposing to use tools developed by cell and molecular biologists, chemists, physicists, and engineers to answer questions posed by psychologists, cognitive neuroscientists, and evolutionary biologists.
"While many aspects of both cognition and cellular and molecular biology are reasonably well understood at this point, the connections between these two levels of activity remain hazy," says Joshua Sanes Ph.D. '76, a neurobiologist at Washington University in St. Louis who will become the first CSN director in July 2004. "The Center for Systems Neuroscience intends to explain human cognition and behavior in terms of the activity of individual cells and genes, linking human behavior with biological activity on a cellular and molecular scale."
Sanes and others affiliated with CSN – including fellow Washington University neurobiologist Jeff Lichtman, who will also join Harvard this year, and current Harvard researchers such as Catherine Dulac, professor of molecular and cellular biology; Marc Hauser, professor of psychology and Harvard College Professor; Stephen Kosslyn, John Lindsley Professor of Psychology; Markus Meister, Jeff C. Tarr Professor of Molecular and Cellular Biology; Ken Nakayama, Edgar Pierce Professor of Psychology; Daniel Schacter, William R. Kenan Jr. Professor of Psychology; and Elizabeth Spelke, professor of psychology – will train their sights on basic neural circuits and rudimentary behaviors like food seeking, smelling, or anxiety. This focus on fairly simple circuits and behaviors could pave the way for significant breakthroughs within a decade.
"This is an exciting science initiative that brings together many of Harvard's best scientists, from several different disciplines, to work together on the fascinating problem of cognition," says Douglas Melton, chair of the FAS Executive Committee on the Life Sciences and Thomas Dudley Cabot Professor of the Natural Sciences. "With the strong leadership of Josh Sanes and Harvard's commitment to excellence, I expect we'll soon see significant advances in research as well as new opportunities for learning and training in systems neuroscience."
Experts in advanced imaging and computational methods will be especially important to CSN's efforts to unravel the tangled relationship between neural circuitry and behavior. These scientists will be charged with developing unique tools to probe the connections between micro- and macro-level neuroscience, such as entirely new imaging techniques to view neural circuitry and activity. CSN scientists may also develop new computational methods to sort vast quantities of data, find order in seemingly scattered brain phenomena, and identify key organizing principles of neural networks.
Carla Shatz, Nathan Marsh Pusey Professor of Neurobiology and chair of the Department of Neurobiology at HMS, says that the new center will provide exciting new links between the neuroscience communities in Cambridge and the Longwood medical area. Shatz, whose department has recently received University support for four new faculty hires, says that CSN's advent may make Harvard the first institution to so actively and formally encourage collaboration between neuroscientists across its schools.
"The idea of this center as a real, formal link is exciting," Shatz says. "I view this center as a real mechanism for the two groups to interact, and as a way to build knowledge where knowledge is needed."
Shatz says she and Sanes, who have been friends and colleagues since both were graduate students at HMS, share a common vision of the future of neuroscience – namely, that the field will need to look to what Shatz calls the "quantitative sciences," such as physics and computer science, in its quest to link observations of cells and genes with the activity of the entire brain.
"Both Josh and I came back to Harvard because we felt that if anyplace could pull this off, this university could," adds Shatz, who returned from the University of California, Berkeley, in 2000.
CSN is the final realization of former FAS Dean Jeremy R. Knowles' 1999 decision to invest in three promising areas of science: genomics, imaging and mesoscale structures, and neuroscience. The first two initiatives were established as the Bauer Center for Genomics Research, which houses young scientists engaged in pioneering research, and the Center for Imaging and Mesoscale Structures, which has yielded major infrastructure investments shared University-wide.
Unlike these two centers, Sanes says, the neuroscience initiative is envisioned as a new intellectual discipline. With nine new faculty members added at both the senior and junior level, the total number of CSN-affiliated faculty should reach 20 within five years. All will be appointed to departments within the FAS, teaching the next generation of scholars and helping to satisfy growing undergraduate interest in neuroscience even as they pursue their research.
Sanes and Lichtman are the first two scientists recruited to join CSN; hiring of other affiliates is ongoing, and will continue indefinitely. In the short term, researchers will be housed in space allocated for their home departments. Longer term, CSN is slated to receive additional interdisciplinary space.
"We envision a space that will bring together people interested in neuroscience who would not normally see much of each other – physicists with psychologists, ethologists with computer scientists, and so on," Sanes says.
A nerve center for the neuroscientists, if you will.