Team player Nicole Corriero '05 entered the sports world's exclusive last-second-hero club this past Saturday (March 6) at the Bright Hockey Center.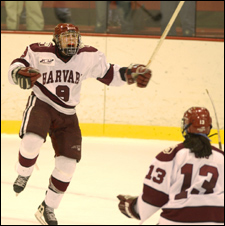 Deadlocked at 0-0 against Yale in the final period, the junior left winger somehow found the back of the net with just seven seconds remaining to give the Harvard women's hockey team an almost unbelievable 1-0 win.
And though Corriero's game-winning goal (she leads the Crimson with eight, incidentally) doesn't hold quite the same weight as, say, John Havlicek's famous steal in the 1965 NBA Eastern Conference Finals, the win does speak volumes of this Harvard team's hard-working personnel and persistence: good things to have heading into the postseason.
Compared to Saturday's battle with the Bulldogs – or more specifically, against Yale goalie Sarah Love, who repeatedly null and voided Harvard's eight power-play opportunities with 45 outstanding saves – the Crimson "cruised" to a 2-0 victory against visiting Princeton the very next day (March 7). Against the Tigers, freshman Liza Solley notched her second goal of the season halfway through the second stanza, while Corriero scored late in the third as a bit of insurance. Netminder Ali Boe '06 stopped 19 shots to collect her seventh shutout of the 2003-04 campaign (a new Harvard record for individual shutouts in a season).
With the wins, the No. 3 Crimson (25-3-1) captured a share of the ECAC title with St. Lawrence, who twice beat Union over the weekend to post an identical record in conference play (15-3-0). Yet given Harvard's sweep of the Saints in February, the Crimson will open the ECAC quarterfinals with the No. 1 seed against No. 8 Cornell, while St. Lawrence – seeded No. 2 – takes on No. 7 Colgate.
Against the Big Red, the Crimson will look to continue their successful play at home in a best-of-three series beginning Friday (March 12) at 7 p.m. The action continues Saturday (March 13) at 4 p.m., and then on to a tiebreaker, if necessary, to be held on Sunday (March 14). The winner advances to the 2004 ECAC JP Morgan Chase Championships, to be held March 20-21 at Union College. A victory in Schenectady ensures an automatic bid to the Frozen Four, to be held March 26 in Providence.
Also this Friday (March 12), a revitalized men's team – who put away Vermont this past weekend in the first round of the ECAC's – resumes tournament play in a best-of-three series against host Brown. The action starts at 7:30 p.m. and continues through the weekend. Visit http://www.gocrimson.com for updates.