Homeland Security Chief Tom Ridge shared sometimes deeply personal insights about leadership with a Harvard Business School audience of students and faculty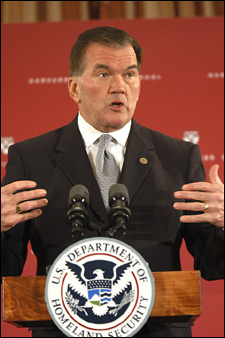 on Wednesday (Feb.11), saying that he has largely been driven by lessons from his father about integrity, responsibility, hard work, and the value of education.
The Department of Homeland Security was created from 22 separate federal agencies in the aftermath of the 9/11 terrorist attacks. Ridge, the former governor of Pennsylvania, became its first director in October 2001 and then its first secretary in January 2003 when it was upgraded to a Cabinet-level agency.
After joking that he accepted the invitation to the Business School because it was probably the only way for him ever to be admitted, Ridge talked mainly about leadership and ethics. Ridge praised Dean Kim Clark's focus on ethics and leadership in the business curriculum, saying that the two should be taught explicitly, and not simply as an implicit lesson.
The Homeland Security chief then focused on leadership strategies that he has designed to "empower" the 180,000 employees under his command.
"To me the essence of leadership is personal; it is highly individualized. It is about how you choose to define it, and what you choose to make of it," he said. "How you lead [comes down to] selecting approaches that are appropriate to the challenges of the task or the circumstances of the times."
Ridge also emphasized that leadership is about values and mentioned the impact of lessons from his own father. "No one has had more profound impact in what I believe than my father … He was emblematic of the word integrity. … He repeated: 'Do your best, take personal responsibility for your actions, all work has dignity, education is the ultimate form of empowerment, and no one loves you more than your mom.'" Ridge recalled how proud his father was the day of his graduation from Harvard College in 1967.
He noted that terrorists don't share these values. "They are on a different and destructive path," Ridge said. "They represent no country, no cause, no people. They have access to state-of-the-art technologies, guns. Their motivation? To kill even if they don't understand … and they kill a lot of people along the road…. Terrorism is not a new phenomenon but it is a different phenomenon now."
He referred to people turning airplanes into missiles – how, with an army of two dozen people and a budget of half a million dollars, diligent, adaptable, patient terrorists are capable of great destruction. "To defend our country we have to become adaptable, flexible, and decidedly responsible, just as successful businesses have to renovate themselves or perish," Ridge noted.
He said that his main challenge in coordinating 180,000 people to defend the country is to unify in them a sense of purpose – the common purpose of better protecting the American people. Using business terms, Ridge noted his challenge has been to simultaneously coordinate mergers, acquisitions, and start-ups.
"On a daily basis we have to patrol 95,000 miles of coastline, 7,500 miles of land border, scrutinize 1.5 million passengers before they take commercial aircrafts, 2.5 million pieces of luggage, review thousands of visa applications, work with states and cities and citizens to prepare them for emergencies … ."
Continuing with his business analogy, Ridge said that his agency is handling a diverse risk management business and has a board of directors of 535 people: the Congress of the United States. "I would also say that they are our capital markets; they are the source of our funding," Ridge noted with a smile.
Ridge stressed that titles don't convey leadership: "Titles alone suggest a chain of command, give you compliance to minimum standards, but not commitment." Commitment gets you a lot further than compliance, he emphasized. "If you exude confidence and lead by example rather than by title, you can go further. … A leadership team should be an educated and energized work force," he said. "You must have a clear set of priorities. Vision, mission, strategic goals, core values, principles, and action plans to get things done."
Ridge also warned that national security cannot be micro-managed from the nation's capital. "It is really about integration of a nation. It is about partnerships." One example is that about 7,000 U.S. businesses have established protocols to help provide security along the Mexican border. "We can't stop every truck," Ridge said. In addition, his agency has provided $8 billion since March 1, 2003, in grants for state and local partners to help them offer strategic security plans. According to Ridge, Massachusetts presented one of the best plans.
During a brief press conference after his presentation, Ridge mentioned the partnership that Homeland Security has established with universities. "We have talked with presidents of universities," he said. "We call the university to confirm if the international student has been admitted. We ask the universities to validate and verify if he or she is actually enrolled. … In the past there were people who claimed having been admitted by a program when they didn't. The student exchange visitor system was a mess."
To a student question about where he sees the line between suspending some civil liberties for the public good vs. creating a potential police state, Ridge pointed out that his agency has created two self-scrutinizing units: a unit dedicated to worrying about privacy and another dedicated to personal freedoms.
"They review any initiative we undertake," he said. Ridge admitted that one of the most controversial proposals that has been under review involves a computer-assisted program that would grant access to commercial databases for information about individual air travelers.
Another student pointed out that Ridge's job seems impossible, claiming the actual probability of stopping terrorist attacks to be minimal. Ridge responded: "One of our responsibilities is to communicate that we make no guarantees. … If we want to remain as open and welcoming as we are and as diverse as we are … there is that delicate balance between civil liberty and security … I have always operated under the belief that no matter what we do we cannot guarantee there will be no event or events. We are trying to stop a catastrophic event."
Maria Cristina Caballero is a fellow at Harvard University's Center for Public Leadership at the John F. Kennedy School of Government.