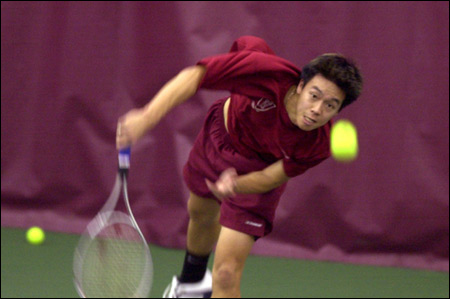 After fighting off a host of collegiate and professional players from across the country, Harvard tennis teammates (and doubles partners) Jack Li '07 and Chris Chiou '05 eventually found themselves in the midst of a civil war. In semifinal singles action in the first annual USTA Men's February Open, which concluded on Feb. 22 at the Murr Center, Li dismissed former Duke standout Alberto Brause, 6-3, 6-3, just as Chiou knocked off top-seeded pro Trevor Spracklin 7-6 (4), 6-4, setting up an All-Crimson final.
Against Chiou, Li took an early lead in the first set before twice dropping his serve. The freshman then stood by as his 4-1 advantage turned into a 5-4 deficit to force a tiebreaker, before recouping the aggressive play he exhibited earlier in the set to take the tiebreaker and match – and the inaugural Harvard-hosted February Open – 7-6 (4), 6-3.
Harvard players also prevailed in doubles competition, though without having to go against their own. The new tandem of junior Jonathan Chu and second-year Brandon Chiu proved their mettle as the No. 1 seed, downing the No. 4-seeded Kip Rogers and former Brown Bear Chris Drake in the semis, 6-4, 6-4. Things got less easy in the finals as the Chu-Chiu combo split the first two sets with second-seeded Trevor Spracklin and Alex Howard – 4-6, 6-3 – before putting the match away with a 6-4 win.
As the doubles champs, Chu and Chiu outlasted two Crimson pairs in first-years Shantanu Dhaka and Gideon Valkin, who fell in the opening round, and in Scott Denenberg '07 and Caleb Gardner '06, who put up a good fight in the quarterfinals against Rogers and Drake before they were overwhelmed, 6-7 (3), 6-3, 4-6.
While this past weekend's competition had no impact on Harvard's record, the Crimson (3-2, 0-0 Ivy), currently ranked No. 21 in the nation following a solid outing at the USTA/ITA Indoor Team Championships in Seattle earlier this month, will return to dual-meet action on Feb. 29. Harvard will face No. 27 Auburn at the Nick Bolletieri Tennis Academy in Bradenton, Fla., before returning to Cambridge for a pair of matches opposite New Mexico and Furman on March 5 and 6.