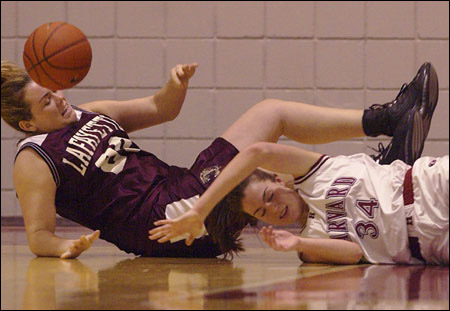 After establishing an early 15-point lead against visiting Lafayette on Jan. 15, the Harvard women's basketball team suddenly plunged into a deep freeze. Shooting 0-for-13 from behind the arc and 33 percent from the field, the Crimson stood by as the winless Leopards went on a 15-4 run to claw their way back within two buckets as the halftime buzzer buzzed.
Yet in nursing a slim 28-24 lead, the frigid Crimson quickly turned up the heat in the second half. Forcing a string of turnovers (seven in under five minutes), and shooting 51 percent from the floor – and a deadly 5-for-10 from three-point range – Harvard opened the half with a 21-6 run to cruise to a 73-52 victory.
With the win, Harvard (7-7, 0-1 Ivy) avoided its first three-game skid since the 1998-99 season, while Lafayette drops its 14th straight game to remain winless.
Leading Harvard's second-half charge was senior Hana Peljto. The hot-handed forward exploded for 23 points in the second half on her way to matching Allison Feaster's 39-point output – a Harvard women's single game scoring record – set on Dec. 7, 1997.
The reigning Ivy League Player of the Year, Peljto shot 8-for-11 in the second half and grabbed 13 boards for her ninth double-double of the season. She also collected four steals to pace Harvard's defense, which forced a season-high 33 turnovers. The Crimson, meanwhile, committed just 14 turnovers.
Peljto commenced the rally with a three-point play two minutes into the second stanza. Following three straight baskets in the paint, and a Beverly Moore '04 three-pointer, the Crimson extended their four-point edge to a commanding 44-31 advantage. Following sophomore Kate Mannering's layup, and a pair of Peljto buckets, including a three-pointer, Harvard pulled ahead, 51-35.
Co-captain Tricia Tubridy notched 12 points on the night to pick up the slack for an absent Reka Cserny '05. Harvard's second-leading scorer, Cserny was forced to the bench in the second quarter after sustaining an injury in an effort to draw a charge.
The Crimson return to Ivy action Jan. 30 against host Cornell. Tip-off is set for 7 p.m.