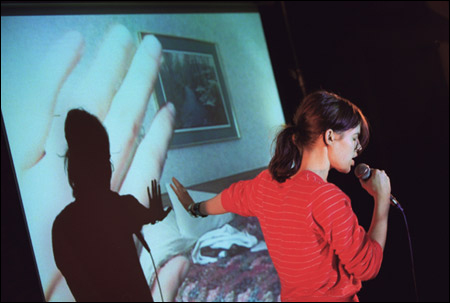 During a brief lull in Tracy and the Plastics' set this past Monday evening (Dec. 6) at the Cabot House Underground Theatre, Tracy (aka, Wynne Greenwood) – mastermind and front-woman of the Olympia, Wash.-based art-punk "trio" – invited the crowd of nearly 75 people to "Look at each other for a second." Greenwood's suggestion to transfer the focus from herself to those in attendance wasn't so much a break from the evening's performance, as it was an extension of it. Call it audience participation, Tracy and the Plastics style.
Part basement punk show, part video installation, and part one-woman play, Tracy and the Plastics are comprised of Greenwood and her virtual alter egos, Nikki and Cola, who exist solely on a four by five foot screen via video projections. Through lo-fi electronic music and bold but simple video art, Greenwood and the Plastics explore – and dismantle – the layers of interaction among performer, spectator, and screen. Midway through her performance Greenwood addressed this altered dynamic; stopping the VHS tape she explained: "When I pause the video, it's an acknowledgment that I made the video."
Unlike more traditional video artists, Greenwood is never relegated to being a passive viewer, but rather she becomes a physical participant in her own creation: from her direct conversing with the Plastics, to her silhouette casting a shadow on the screen. The effect is a string of interactions entirely unique to the medium.
At ease and natural, Greenwood socialized with her pre-recorded "band mates" – be it by getting her nails done by sassy Nikki, or informing spaced-out Cola that she has peanut butter on her face.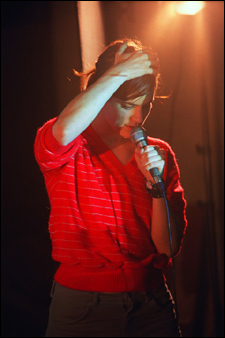 And though Greenwood largely eschews the passivity of TV, she did borrow that technology's one golden maxim: anything and everything can be resolved with a song. For instance, when Cola's peanut butter problem spread to epic proportions, eventually taking over the entire video screen with crudely illustrated brown spots resembling peanut butter, Tracy and company kicked out the jams.
Musically, Tracy and the Plastics offered up pre-recorded drum machine beats, cheap sampler bleeps, and whooshing retro synthesizers. These songs, largely percussive works, act as a backdrop for Greenwood's accomplished singing style, which is reminiscent of fellow electro riot girl Kathleen Hanna of the band Le Tigre and moody vocalist P.J. Harvey. At the Underground Theatre, Greenwood espoused a hopeful, feminist, and queer-friendly message, belting out such choruses as "Don't Follow" and "Man, I'm O.K."
Following a one-song encore, the half-hour set ended somewhat abruptly, as the crowd, theater staff, and Greenwood quietly milled around, apparently unsure of what to do next. That is, until Greenwood snapped everyone back into reality by moving off stage and announcing, "I'm going to step out of the light."
The performance was sponsored by the Office for the Arts' Learning from Performers Program and the Visual and Environmental Studies Department (where Greenwood participated in the "History of Video Art" course with Visiting Lecturer Elisabeth Subrin). Tracy and the Plastics are set to perform at the Whitney Museum of American Art, as part of the museum's upcoming biennial exhibition.