Five Harvard students and one recent alumnus have been selected for 2004 Rhodes Scholarships, more than from any other school.
Four of the students are American: Dov Fox '04; Pooja Kumar, a second-year student at Harvard Medical School; Alexander Pollen '04; and Rachael Wagner '04. Two are from Kenya: Shakirah Hudani '03/'04 and Mwashuma Nyatta '02.
At Oxford, Fox plans to pursue a master of philosophy degree in political theory with a focus on bioethics. He will study with Julian Savulescu, the director of the center for applied ethics at Oxford, who has agreed to supervise his research.
Fox's interest in bioethics began while he was an undergraduate. He is currently working on a senior thesis under the supervision of Michael Sandel, the Anne T. and Robert M. Bass Professor of Government, which asks, "What is the moral status of practices that aim to enhance human traits?" Fox's interest in the subject led him to work as a summer research intern for the President's Council on Bioethics.
Soon to be a published author, Fox wrote the book "The Harvard Mystique," which explores undergraduate life at Harvard with a thoroughness and candor he claims are unprecedented. The book grew out of Fox's experiences as a freshman adviser.
"Kids would ask me about Harvard life and I found I was pathetically unknowledgeable. I felt I wasn't doing a good job."
Fox scoured Harvard publications and surveyed thousands of students, faculty, and staff. (The resulting book will be published next year by Princeton Review Press.)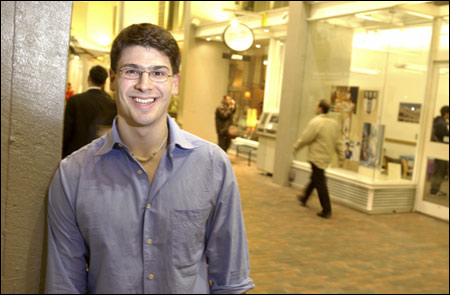 Born in Israel, Fox moved to the United States with his family when he was 3 and grew up in West Hartford, Conn. He has worked as a teacher in the Refugee Youth Enrichment Program, taught civics classes in Boston schools, volunteered at Greater Boston Legal Services, and helped out at the University Lutheran Homeless Shelter.
In addition to his academic work, literary activities, and public service, Fox still finds time to express his lighter side. He has performed at comedy clubs throughout the Northeast, sometimes as many as four or five times a week. What sort of material does he do?
"Oh, you know, experiences I've had growing up, goofy interactions I've had with people, that sort of thing."
Kumar, a second-year student at Harvard Medical School, graduated from Duke in 2000 with distinction in her own concentration of health policy and social values. At Oxford, she will pursue a master of philosophy degree in international relations with a special interest in the intersection of war and health. Her interest in this subject began when she read the book "We Wish to Inform You That Tomorrow We Will be Killed With Our Families: Stories From Rwanda" by Philip Gourevitch.
"That was a turning point for me. The book opened my eyes to the politics of the genocide in Rwanda and how the aid agencies responded."
She is especially interested in the health problems of refugees and hopes to study issues of forced migration at Oxford, working with Sir Adam Roberts, an expert in international law. Kumar has worked with refugees in central Africa and Azerbaijan, with children afflicted with AIDS in India, and children in crisis in East Timor, and with the terminally ill in Calcutta. She was recognized as a top student both by USA Today and Glamour Magazine.
After earning a master's degree at Oxford, she plans to return to the United States and complete her medical degree. She said that the British hiatus comes at an opportune time, between her two years of course work and two years of clinical study, and she believes her enthusiasm for the work she has chosen will provide her with the necessary momentum to pursue the course of study to the end.
"If you find something that you love doing, you become motivated, passionate, and happy about it," she said.
Pollen, from Lexington, Mass., is a neurobiology concentrator who has conducted original research on brain structure and gene expression in African cichlid fish. Pollen traveled to Tanzania with his adviser Hans Hofmann of the Bauer Center for Genomics Research. There he donned scuba gear and observed the fish in their natural habitat in Lake Tanganyika, performing experiments to determine whether differences in habitat were correlated with physical differences in the fishes' nervous systems. In addition to conducting research, Pollen enjoyed other experiences on his trip to Africa, including seeing the chimps at Jane Goodall's research post at Gombi, going on a safari in Kenya, and climbing Mt. Kilimanjaro. A veteran of the Boston Marathon, Pollen still found the climb difficult.
"Near the top your water bottles freeze, you have a constant headache from the altitude, but being at the summit at sunrise was just so thrilling."
At Oxford, Pollen plans to pursue a master of science degree in biodiversity, conservation, and management as a first stage in a Ph.D. degree. His plan is to combine a science career with work at the policy level in order to have a positive impact on the world's natural environment.
"I think it's important to be conscious of threats to biodiversity so as to be able to better influence policy," he said.
Wagner, of Virginia Beach, Va., is concentrating in economics and social anthropology and plans to pursue a master of philosophy degree in development studies during her stay at Oxford. For her senior thesis, she is studying the ways in which women of different economic backgrounds manage the demands of marriage, children, and career. One of her findings is that the careers of low-income women are often derailed not by the birth of children but by abusive husbands and boyfriends.
"You often hear about the psychological effects of domestic violence, but the economic consequences are huge," she said. "They cause a lot of women to drop out of jobs, causing them to be less productive."
Women's issues and development studies have both interested Wagner during her undergraduate career. She had seen the two interests as separate until she realized that both involved helping people gain control over their lives. During her undergraduate career, she has worked for the Center for Women and Enterprise, a nonprofit organization that counsels aspiring women entrepreneurs, and for The Seneca, a Harvard organization that makes the Harvard experience more rewarding for undergraduate women by helping to develop social and professional relationships and improving access to resources.
"People think we're living in a postfeminist era and that all the problems have been solved, but that's not true. There's still a pay gap, which can't be explained by anything except discrimination. It's really important for people to succeed as individuals, but to reach that point, it's necessary for women to work together."
In addition to her academic work, Wagner is a NCAA Division I academic All-American and varsity skier. She is also former executive editor of the Harvard International Review and chair of the Harvard International Relations Council. She was the leading co-author of a 25-year strategic plan for the future of Virginia, written by college students.
Hudani is a social studies concentrator currently on a leave of absence in Rwanda where she is studying the legal system set up there to try perpetrators of the 1994 genocide. She plans to study for an M.Phil in Medieval Arabic Thought at Oxford and would eventually like to pursue further studies in Islamic law and philosophy.
Nyatta was an economics concentrator.
The Rhodes Scholarships were created in 1902 by the will of British philanthropist Cecil Rhodes. Criteria for selection include high academic achievement, integrity of character, a spirit of unselfishness, respect for others, potential for leadership, and physical vigor. To date, more than 300 Harvard students have been awarded Rhodes Scholarships.