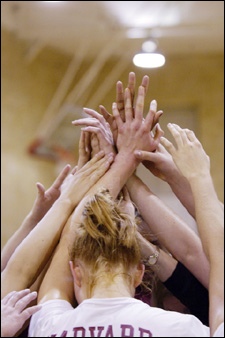 A school-record 35 digs by co-captain Allison Bendush '04 wasn't enough to lift the Harvard women's volleyball team past visiting Yale on Saturday (Nov. 8), as the Crimson dropped its final home match of the season, 3-1. The loss, which fell on the heels of Harvard's 3-0 sweep of Brown on Nov. 7, ends a five-game win streak for the Crimson. With the loss, Harvard falls to 8-14 (7-5 league) for a fourth-place spot in the Ivy rankings.
The Crimson captured the first game against the Bulldogs, 30-21, thanks largely to the strong play of senior Nathalie Miller, who paced the Harvard attack with six kills on .600 hitting. Miller finished the afternoon with 13 kills and 10 digs. The Crimson hit .316 as a team in the opening game, while limiting the Bulldogs to .079 hitting.
Yale responded with purpose (and some much improved hitting – .250 percent) in the following two games, taking the second and third contests, 30-20, and 30-22, respectively.
In the fourth and final game, Harvard fell behind in the early going before knotting the score at 17. Yale regained control with a five-point run to go up 29-24, but not before the Crimson forged a rally of its own: notching four straight points to establish a 28-29 count. Yale quickly eclipsed the Crimson, however, as Bulldog Rene Lopes delivered her 15th and final kill of the afternoon to secure the 30-28 win.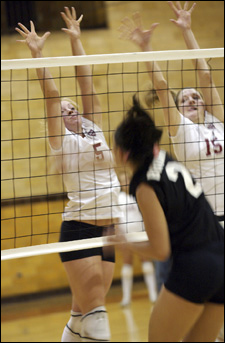 The loss marked a less than perfect ending for four Harvard seniors, as veterans Bendush, Miller, Amy Dildine, and Mariah Pospisil all concluded their collegiate careers at Malkin Athletic Center. Meanwhile, Bendush – with 337 digs on the season – moved into fifth place on Harvard's all-time career list (984).
Against Brown the day before, Harvard received another superb performance from freshman Katie Turley-Molony. The former Rookie of the Week recipient (Oct. 27-Nov. 3) registered 14 kills against the Bears, including her spectacular point in game three.
With Harvard up 27-26, Turley-Molony approached the net to receive a Brown floater – and rather than spiking it home, she delivered a gentle, arching return that faked out Brown's entire front-row defense. The ball touched down squarely in the middle of the court to give the Crimson a 28-26 edge. Harvard went on to capture the game – 31-29 – and match.
The Crimson wrap up their 2003 season on the road with contests against Princeton on Friday (Nov. 14) at 7 p.m., and against two-time defending league champion Pennsylvania on Saturday (Nov. 15) at 4 p.m. Check http://www.gocrimson.com for the latest.