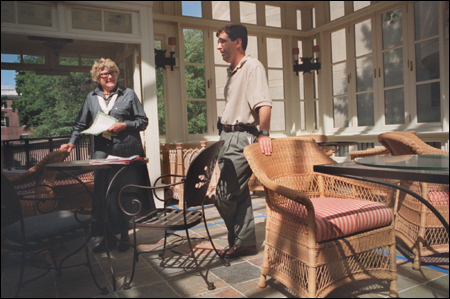 This fall, several new campus eateries stand at the ready to satisfy appetites revved by the crisp autumn air and renewed intellectual fervor.
---
For more information on the Harvard Faculty Club, visit www.hfc.harvard.edu.
For Harvard University Dining Services,
www.dining.harvard.edu.
---
The Faculty Club, which has at long last emerged from behind scaffolding and construction fences, has opened the Conservatory, a casual bistro and bar located on what was the club's North Terrace. Airy and elegant, the glass-walled Conservatory is now open for breakfast and will soon be open for lunch and into the evening for desserts and espresso or liqueur.
"I've wanted to get someplace for people to come and really hang out, someplace cozy," says Faculty Club Director June Cuomo, who adds that the Conservatory has been two years in the making. She cribbed unabashedly from some of her favorite restaurants, swiping inspiration for coffee and blue-shelled eggs from Araucana chickens from Chez Panisse in Berkeley, Calif.
Yet the Conservatory retains a distinctly Harvard flavor, Cuomo insists. At the bar, stocked with beers on tap and a selection of wines by the glass, she's created a fizzy red wine drink called the Radcliffe Cooler, and the Harvard Yard, a peppery martini. And with a nod to Yankee frugality, hot hors d'oeuvres will be complimentary at the bar between 4 and 6 p.m.
At the more utilitarian end of the gustatory spectrum, Harvard University Dining Services (HUDS) recently unveiled the refurbished Greenhouse Café in the Science Center, which had a ten-week facelift over the summer to improve traffic flow and enhance its quick and healthy offerings. New to the Greenhouse are the California-style Mexican offerings of the Catalina Cantina and custom-made tossed salads at Global Greens.
And next month, HUDS anticipates the opening of Buttery 29 at the new graduate student residences at 29 Garden Street. Open to the entire Harvard community, the café-emporium was created to serve the cooking and dining needs of graduate students and Quad residents with eat-in or take-out fare and grocery items.