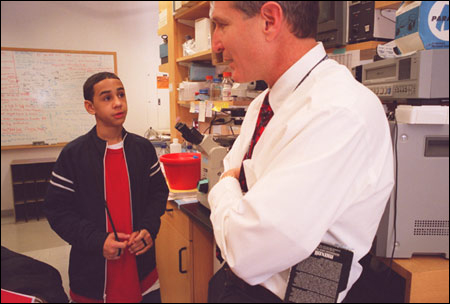 The next time Elliot Rojas sees his grandmother, he'll have plenty to tell her about the breast cancer she battles. He can describe the role of the immune system, how stem cells work, and the research that is aiming to make bone marrow transplants more successful. He can even tell his grandmother what bone marrow cells look like through an inverted microscope, or how researchers measure molecules on stem cells with a flow cytometer.
Rojas, an eighth-grader at Roslindale's Washington Irving School, got a crash course in some of the latest cancer-fighting research Tuesday (Oct. 28), when he and more than 100 other middle school students from eight Boston Public Schools participated in the Harvard Medical School's (HMS) Explorations program. A project of HMS's Office for Diversity and Community Partnership, Explorations is the youngest entry point into what organizers call a pipeline aimed to spark the interest of students – particularly those of underrepresented minorities – in careers in science and medicine.
---
For more information, visit the Harvard Medical School Office of Diversity and Community Partnerships' Web site
---
After hearing from HMS faculty physicians, students joined researchers for intimate looks at their labs. For Rojas and classmate Kerline Desir, that meant an up-close look at the cancer research of Robert Sackstein, associate professor of medicine who works in the Harvard Skin Disease Research Center. Sackstein and lab manager Derek Cain went beyond science to inspire the students with clear, lively instruction and personal stories.
"When I was your age, my grandmother was dying from high blood pressure," Sackstein told the students. "I was so upset that I said to myself, 'I'm going to go into the laboratory and cure high blood pressure.'" It was a program in southern Florida similar to Explorations that gave Sackstein, then in high school, his first lab experience and set him on his career path.
Sackstein, like his many colleagues who opened their labs to the middle schoolers, eagerly took two hours from his day to spend with the students. "This is probably the most important thing we do, looking at the next generation," he said. "You get the students at this age and you create the future."
Rojas and Desir, while a few years shy of firming up their career goals, were rapt with attention in the lab, peppering Sackstein and Cain with questions – "Why does your hair fall out with chemotherapy?" "Why do you always use rats and mice for research?" "Why do people with diabetes have to give themselves shots?" – as their shyness slipped away.
"I learned a lot today," said Desir. Rojas had a more succinct impression of the day in the lab: "Cool."