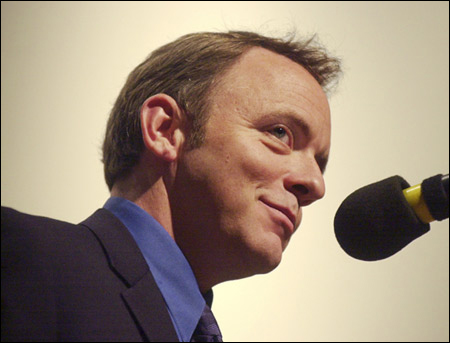 Hollywood came to Cambridge Monday night (Oct. 6), as the area premiere of the Boston-bred film "Mystic River" festooned Sanders Theatre with more glitz than is customary on a weeknight in Harvard Square. But at the event, a benefit for the venerable Harvard Film Archive (HFA) on its 25th anniversary, Boston and Cambridge outshone the sequins, security, and even a video greeting by director Clint Eastwood with the film's gritty but unflinchingly honest portrayal of the area.
---
See what's coming up in the Harvard Film Archive's 25th anniversary season:
http://harvardfilmarchive.org/.
---
Locals, from the Boston Symphony Orchestra, which played the film's score, to novelist Dennis Lehane to dozens of extras who eagerly scanned each crowd scene for their faces, filled the theater and gave the film a hometown reception. Even a local environmental group working to clean up the Mystic River set up an enterprising, if unofficial, alliance with the film, distributing its literature outside Memorial Hall.
Following pianist Brad Hatfield's musical introduction to the film's theme, composed by Eastwood, HFA curator Bruce Jenkins welcomed the audience, which included city officials from Boston and Cambridge and local and state policemen who advised Lehane when he wrote the crime novel on which the film is based. Eastwood, said Jenkins, was so captivated by Lehane's "Mystic River" that he insisted the film be made in Boston.
"It may well be the finest feature film ever to have been made here," said Jenkins. Plugging HFA's collection of 8,000 films and its 25-year history of screening films in "our little secret cinema" in the Carpenter Center, Jenkins called "Mystic River" "the most extraordinary film I guarantee you will have seen this year."
Dorchester native Lehane, who is teaching writing at the Harvard Extension School this fall and appears briefly in the film's final scene, was more succinct and self-effacing in his introduction of the film. "I hope it doesn't suck," he said. Lehane, who left screenwriting duties to Brian Helgeland, lauded Eastwood for crafting a film that remained "extremely faithful" to the book, all the way to its dark finale. He warned that "Mystic River" would not provide two hours of light entertainment and leave a feel-good glow.
"Buckle up, this is not a Jim Carrey movie," he quipped.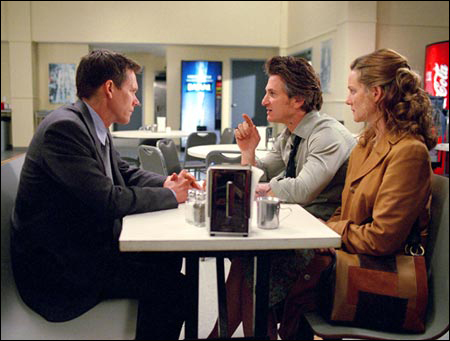 Childhood friends reunited in tragedy
Packing a nonstop emotional wallop with few moments of levity, "Mystic River" delivered on Lehane's promise. Set in a Boston working-class neighborhood in transition, where a checkerboard of grubby three-deckers hunkers beneath the ubiquitous Tobin Bridge, the film charts the tangled lives of three boyhood friends, Jimmy Markum (Sean Penn), Sean Devine (Kevin Bacon), and Dave Boyle (Tim Robbins).
The film opens with a flashback to a day in 1975 that would send the three adrift from each other: Playing street hockey and contemplating petty crime, the three 11-year-olds are confronted by two men they believe to be plainclothes policemen. The men abduct Dave, who escapes them after four harrowing days. Twenty-five years later, all three friends remain scarred by the experience.
They are reunited by another tragedy, the murder of Jimmy's beloved 19-year-old daughter, Katie. Sean, a homicide detective, is assigned to investigate the seemingly senseless murder. He and his partner Whitey (Laurence Fishburne) must race to find the killer and outpace Jimmy, an ex-con-turned-convenience store owner whose steaming rage is uncorked by an obsession for revenge. Dave, still tormented by his abduction as he sleepwalks through the roles of devoted husband and father, arrives home the night of Katie's murder with someone else's blood on him, connecting him inextricably and tragically to the crime.
As the murder mystery drives "Mystic River's" plot forward, the emotional struggles of the three men and their wives – Laura Linney's tough Annabeth Markum and Marcia Gay Harden's brittle Celeste Boyle – plunge the film ever deeper. The actors inhabit their characters with brilliance and clarity. Despite his valiant attempt to trade his criminal lifestyle for that of a devoted family man, Jimmy Markum is undone by his daughter's murder; Penn captures the character's coiled anger with electricity.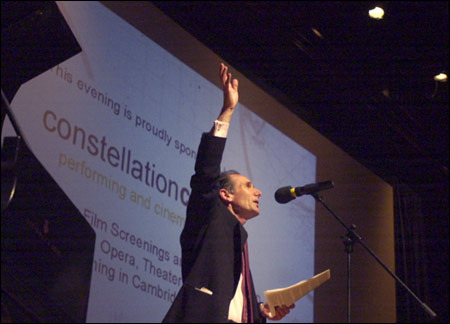 Robbins' ashen Dave Boyle emerges only occasionally from the haze of his past demons. He never left the neighborhood from which he was abducted decades prior, and he delivers one of the film's few smile-cracking lines as he observes a yuppie invasion polishing its blue-collar grit. "This neighborhood needs a good crime wave to get rents back to where they belong," he says.
Sean Devine got out of East Buckingham, but his cell phone and serene apartment and beautiful but absent wife can't overpower the tug of the old neighborhood. Investigating Katie Markum's murder, he becomes mired in childhood loyalties and generations of family alliances. Unraveling the murder, Sean and his former pals Jimmy and Dave spin in an ever-tightening orbit around each other and the streets of the old neighborhood.
Starring … Boston!
As stunning – and no doubt, award-winning – as the actors' performances are, at this screening the city of Boston stole the show. From the looming presence of the Tobin Bridge to Robbins' Red Sox cap to references to local hotspots (including Cambridge's Cantab Lounge and Hi-Fi Pizza), "Mystic River" pays homage to its roots. Eastwood's dizzying aerial shots eschew the obligatory sun-washed sweeps of the Public Garden or Boston Harbor for the urban landscape of an industrial Boston. Although glimpses of cappuccino bars and SUVs hint at the film's subtext of a city in transition, "Mystic River" stands proudly in the unglamorous glare of working-class Boston.
The audience, wrung dry from the film's two-plus hours of emotional outpouring, applauded heartily at the film's end. As if a coda to the film's homecoming premiere, perhaps the evening's loudest cheer went to an audience member's spontaneous announcement as the credits rolled and the lights came up: "The Red Sox are winning, four to three!"